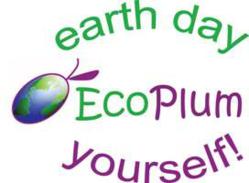 Contests are fun, but this one has a deeper message of promoting activism, sharing with our communities, and making a difference one step at a time
New York, NY (Vocus/PRWEB) April 13, 2011
Today, EcoPlum, the green shopping rewards site for eco friendly products and green living information, launched 'earth day yourself!', a campaign and contest, with prizes for photos and videos submitted by its fans and shoppers. The campaign promotes environmentally friendly actions and awareness this month, in conjunction with Earth Day on April 22.
Through April 30, EcoPlum is accepting photos, videos, and short descriptions from its fans and shoppers, as they engage in activities to appreciate, or clean up, the environment. Screened submissions will be posted on the site for readers to rate. The ratings will continue through May 7, with awards announced on May 11.
Gia Machlin, Founder and CEO of EcoPlum announced the campaign this way, "Earth Day is this month and we want to encourage everyone we know to do something to honor and protect the earth and its limited resources. Contests are fun, but this one has a deeper message of promoting activism, sharing with our communities, and making a difference one step at a time."
The 'earth day yourself!' contest will accept photos and video entries in four categories:
1. Bonding with Nature focuses on sharing an appreciation of the earth and nature, in outdoor activities, from fly fishing to hiking to sitting alongside a lake.
2. Spring Greening Our Homes highlights use of eco friendly products, energy efficiency measures, and other ways to green the home.
3. Greening Our Community highlights environmentally friendly activities outside the home such as planting trees, organizing electronics recycling, introducing compostable dinnerware and utensils to schools and businesses, and more.
4. Creative Recycling/Upcycling encourages creative imagination and fun in recycling, or upcycling, objects, rather than disposing of them. Recycling is to reuse, while upcycling puts the object to a new, or better, use. Both may be practical or artistic.
With this announcement, EcoPlum is promoting the campaign on its Facebook page, homepage, Twitter feed, e-mail newsletters, and on partner sites.
Two prizes will be awarded. The Grand Prize winner will receive 2,000 EcoChipz rewards points, worth $100, and a second randomly selected winner will receive 500 EcoChipz rewards points. Both awards may be used for green products in the EcoShop, or donations to environmental causes listed on EcoPlum.
For more information on EcoPlum's earth day yourself! campaign, go to http://www.ecoplum.com/earthdayyourself
About EcoPlum.
EcoPlum is a green shopping rewards site that makes it easy, fun and rewarding to go green. It is a place for people to find eco friendly products and green living information, empowering them to make responsible choices every day. Under EcoPlum's loyalty program, purchases earn EcoChipz that may be redeemed for rewards, coupons, or donations to environmental causes. The EcoShop carries products and vendors with recognized eco-labels, and products made from 100% recycled content. EcoPlum's mission is to foster environmental stewardship through education and engagement with a community of people becoming more conscious of their daily habits, purchases, and impact on the world's limited resources.
Industry experts write original columns for Ecoplum, including Chryso's Beauty Buys, Dede's Green Scene, The Accidental Locavore, Designing Green with Robin Baron, and Greening Our Schools. The EcoPlum Blog, Confessions of a Reformed Consumer, follows founder Gia Machlin on her personal journey from an over-consuming, waste-producing materialist to an informed environmentalist. EcoPlum is also a resource for local green business listings, recycling information, green restaurant and travel listings, movie and book recommendations, and the latest ways to take action on environmental issues.
Gia and EcoPlum have been featured on Green is Good Radio, WOR Talk Radio, WomenEntrepreneur.com, Crains's New York, Triple Pundit's Green Business Blog Carnival, GenGreenLife, Greenwala, SocialMoms, Woman Owned New York and many other green business blogs and websites.
More information about EcoPlum is available at http://www.ecoplum.com.
###