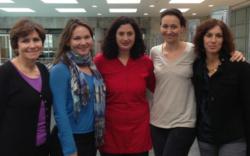 For the entire month of May, EcoPlum will salute green moms who are taking amazing eco actions and changing our world for the better
New York, New York (PRWEB) April 30, 2013
Today EcoPlum, the green shopping rewards boutique, honors environmental initiatives undertaken by moms with EcoPlum Salutes Green Moms, a month-long series of articles and other content focused on their eco actions. Complimentary shipping is offered on all eco friendly products in EcoPlum's online shop, along with 10% off on e-gift cards, through Mother's Day.
Kicking off May1, EcoPlum Salutes Green Moms runs through the end of May, with a special roundup on Mother's Day. The profile series covers a group of moms who introduced composting into New York City public schools; a green mom from the entertainment world; a mother's guide to wellness and living a healthy green lifestyle; a tribute to one of our most influential politicians and green moms; stories about some of the moms who make products for EcoPlum; and other features to be announced. EcoPlum will also collect personal tributes from readers about their environmentally active moms. Photos and video clips may be submitted on the website at EcoClipz, while longer articles can be submitted at submissions(at)ecoplum(dot)com.
An overview of the series is provided by Gia Machlin, CEO and Founder of EcoPlum, who proclaims, "For the entire month of May, EcoPlum will salute green moms who are taking amazing eco actions and changing our world for the better. We're excited to kick off our series with a profile on a group of moms in New York City who tackled food waste in public schools and are now seeing their composting pilot expanded citywide."
In conjunction with the month-long tributes to mothers everywhere supporting green living, EcoPlum is encouraging sustainable gift giving with a Free Shipping offer on all eco friendly products in its online boutique (for purchases over $50) and 10% off on e-gift cards, through Mother's Day on May 12. The gift cards, sent electronically, are an environmentally friendly way to give eco friendly gifts and may be used to buy eco friendly products in the EcoPlum Online Boutique.
Gia elaborated on this offer saying, "Our online shop has some of the best eco friendly gifts for moms anywhere, with beautiful fair trade jewelry, our newest line of eco friendly designer clothing from Ellecante, safe cosmetics, and fair trade coffee and chocolate. Our e-gift cards also make great gifts with no paper, no waste and no returns."
In addition to EcoPlum Salutes Green Moms, the series announced today, EcoPlum offers its readers all kinds of original articles on green living, covering eco fashion, green design, entertainment, organic food, wellness, reviews of safe cosmetics and personal care products, and more. The EcoPlum Daily, featured on the home page, provides a curated compendium of environmental news stories from around the Internet.
The online shop at EcoPlum features eight categories of eco friendly products: (1) Eco Friendly Clothing, (2) Ecochic Handbags, (3) Fair Trade and Handmade Jewelry, (4) Safe Cosmetics and Personal Care Products, (5) Sustainable Home and Housewares, (6) Fair Trade Chocolate and Coffee, (7) Green Kids, (8) Eco Friendly Journals and Notebooks. Purchases of all products and e-gift cards at EcoPlum are eligible for green rewards points.
About EcoPlum
EcoPlum® is an environmentally focused media and e-commerce company, specializing in stylish and unique eco friendly products and original articles on green living and eco action. Under its loyalty program, customers earn green shopping rewards points, called EcoChipz, good for coupons in its shop or donations to environmental causes. EcoPlum's products are carefully selected from vendors who earn third party sustainability certification, carry notable eco-labels, or make products primarily from recycled materials.
EcoPlum's mission is to foster environmental stewardship by informing, empowering and inspiring a community of people to be conscious of their daily habits, purchases, and impact on the world's limited resources. We also believe it should be fun, easy and rewarding to go green. A trusted source for information and products, EcoPlum earned the coveted Green America Business Seal of Approval in 2011, providing the highest tier "Gold Approved Member" status online at GreenPages.org. More information about EcoPlum®, Where it Pays to Buy Green®, is available at http://www.ecoplum.com, via info(at)ecoplum(dot)com, on Facebook, and on Twitter @ecoplum.