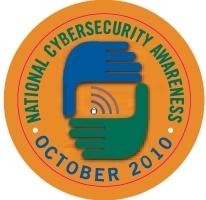 The best way to protect yourself is using an anti-virus program, keeping your operating system up to date with security patches and not 'friending' strangers on social networks.
New York, NY (PRWEB) October 1, 2010
10 Tips from CyberSecurity.com to stay safe during National Cybersecurity Awareness Month and all year round:
1) Keep your personal information private on social networks such as Facebook, MySpace and Twitter. Pay attention to privacy settings. You may be unwittingly sharing personal information such as your date of birth, phone number, address, workplace and mother's maiden name. This may lead to identity theft. Never allow strangers to "friend" you. If in doubt, ignore the request.
2) Keep your operating system and software programs up to date. Security updates offer the latest protection against cyber attacks. If available, turn on automatic updating.
3) Make sure you have antivirus and firewall software installed, properly configured, and up-to-date. New threats are discovered every day, and having antivirus and firewall software installed is the easiest way to protect yourself from an attack. Trusted antivirus software includes AVG Antivirus, ESET NOD32 Antivirus, F-Secure Internet Security, Kaspersky Anti-Virus, Norton AntiVirus, Trend Micro AntiVirus and Webroot Internet Security. Well known firewall software include ZoneAlarm and Norton Internet Security.
4) Protect yourself with anti-spyware software. Webroot's Spy Sweeper has been selected as the Editors Choice Award eight times in a row by PC Magazine. STOPzilla removes and prevents Spyware, Adware and all forms of Malware. PC Tools Spyware Doctor with AntiVirus 2011 combines Antivirus and Antispyware in One.
5) Back up your computer on a regular basis. If you have important files stored on your computer, burn them to CD or DVD or to a removable hard drive. Store it in a safe place. In addition, services like Carbonite, Mozy and Livedrive offer remote backup protection.
6) Think before you click. Google has a "This link may harm your computer" disclaimer in search results. Likewise, a URL scanning tool like AVG LinkScanner will alert you if a webpage is bad BEFORE you click. AVG LinkScanner is free, and works with all other security and anti-virus offerings.
7) Monitor your credit report. myFICO offers credit reports, credit scores, and other credit products and is a division of Fair Isaac Corporation (FICO). Equifax offers credit products like 3-in-1 monitoring with score, score watch, and identity report. TrustedID offers credit monitoring and identity protection.
8) This year, Cyber Black Friday is November 26th, 2010 and Cyber Monday is November 29th, 2010 - the busiest online shopping days of the year. Only shop at reputable online retailers and sellers on eBay. The best way to gauge a seller is by its feedback. NEVER give your credit card, debit card or checking account information to a website you do not trust.
9) Scrutinize your bank account statements and credit card bills for unknown debits or charges.
10) Use non-obvious passwords. "123456", "123123123" and "111111" are surprisingly the most commonly used passwords. It is ultimately your responsibility to keep your data secure.
# # #