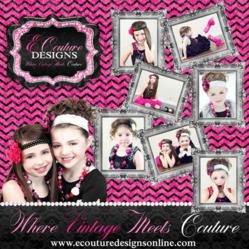 Vintage with a couture twist is how I like to describe E Couture Designs apparel and accessories.
Dallas, Texas (PRWEB) March 05, 2013
Carrollton, Texas-based E Couture Designs (http://www.ecouturedesignsonline.com) has opened a new custom children's apparel and accessories showroom inside destination shopping center, The Plaid Peacock, located in historic, downtown Roanoke, Texas, part of the Dallas-Fort Worth Metroplex. The showroom will feature the latest designs from this popular children's apparel and accessory company.
Watch an E Couture Designs video.
At the E Couture showroom, pageant moms, soccer moms and moms on a budget will find a carefully edited selection of boutique dresses, tops, hair accessories and more. "Our showroom is where locals and visitors to the area can go to shop E Couture's very latest designs," noted owner/designer and Momtrepreneur Elizabeth Copeland. "We're celebrating by offering our shoppers 15% savings when they use coupon code LOVEECD on our website or if they mention the code during checkout at The Plaid Peacock."
E Couture Designs has built its reputation on timeless yet up-to-the-minute children's pettiskirts, dresses and hair accessories that are fashionable and functional. "We are all about attention to detail and quality materials," said Copeland. "As a mom, I know kids want to wear clothes that will make them feel special and help them stand out in a crowd, especially for big events, but at the same time those clothes need to last through the rigors and challenges of the typical busy day."
The company's signature colors are pink and black but Copeland happily designs with bold vibrant fabrics of all shades and is not averse to including a little bling too, as in ECD's new line of custom rhinestone tops and accessories. "Vintage with a couture twist is how I like to describe E Couture apparel and accessories," remarked Copeland. "I especially love designing with Damask prints; there is something so beautiful about them and I think they say 'vintage but couture' like no other fabric."
Since its inception in 2008, E Couture has created a successful online and wholesale business and has also made a splash in Hollywood. Most recently, the company was selected to have its "Old Hollywood" hair pieces on display and included in industry insider and celebrity gift bags at the 2013 Golden Globe Awards. There, the hair pieces landed in the hands of Nicole Kidman, Kerry Washington, Archie Punjabi, Kate Flannery and Janina Gavankar, among others.
Copeland's custom ruffle dresses have been seen on TLC's "Quints by Surprise." Alana "Honey Boo Boo" Thompson sported an E Couture rhinestone bling top, called "Go Insane" on the "Here Comes Honey Boo Boo" Halloween special. The Company has designed clothing for "Toddlers and Tiaras" starlets Eden Wood, Devin McHenry and The Tiara Twins and for reality television star Melissa Rycroft, fashionista Jaime Hilfiger and Melissa Gorga of "The Real Housewives of New Jersey." E Couture has also appeared in magazines like "Glitzy Girls," "002 Houston" and "Kidz Rock Fashion."
E Couture Designs evolved from Copeland's stationery design business. Customers loved her work and began asking if she could design themed outfits for special occasions.Copeland couldn't resist and her custom ruffle pant outfits, tutus, hair pieces and jewelry led to the business as it exists today.
"The success of E Couture Designs is a dream-come-true," said Copeland. "I'm pleased to say we still have many loyal clients dating back to the beginning. It's hard work but it is also great fun. I find inspiration every day in my husband and son and love that I am able to make a living, chase my dreams and passions and be a stay-at-home mom."
To learn more about E Couture Designs, contact Elizabeth Copeland at (832) 566-4518. To shop E Couture Designs online, visit ecouturedesignsonline.com. E Couture Designs is also available at select boutiques in Texas. Wholesale inquiries are welcome. Become a fan of E Couture Designs on Facebook (ecouturedesignsboutique) and follow it on Twitter (@ecouturedesigns).
About E Couture Designs
Texas-based E Couture Designs (http://www.ecouturedesignsonline.com) was founded in 2008, by a husband and wife team Kristian and Elizabeth Copeland. The duo embarked on a journey to create quality products that were not only timeless but also affordable, and functional above all.
The company specializes in custom hair pieces, pettiskirts, and couture children's apparel. Over the last five years E Couture Designs has become a popular brand among celebrities and has been sold in many children's boutiques around the United States.