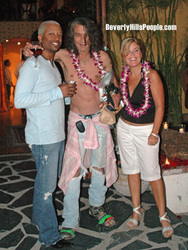 Beverly Hills, CA (PRWEB) October 16, 2007
Visitors to BevelryHillsPeople.com can now sign up to become eligible for a Van Halen concert give-away. Four tickets will be up for grabs for Van Halen's tour stop at the Los Angeles Staples Center on November 20.
Interested visitors are asked to click the sign-up link on the http://www.BeverlyHillsPeople.com home page which will take them to an entry page where they can sign up for the ticket give-away that will be award the week before the Van Halen Staples concert.
This giveaway represents the ongoing connection between BeverlyHillsPeople.com and hometown boy Eddie Van Halen who has electrified the music world with his namesake band's long-awaited tour. Van Halen's lineup this time around will feature Eddie being joined again by brother Alex on drums, son Wolfgang Van Halen on Bass, and the long-awaited return of singer David Lee Roth to the Van Halen fold.
It's been 20 years since David Lee Roth performed with his old band and there has been an entire soap opera's worth of twists and turns on the way to this reunion tour of Eddie Van Halen and Roth. Beverly Hills People has been at the forefront of reporting on Van Halen developments leading up to this tour, including Eddie Van Halen's much talked-about solo performances at West Hollywood's House of Petals in 2006.
It was BeverlyHillsPeople that published the amazing photo of Eddie Van Halen's toe-less shoe seen around the internet. Eddie proudly continues to wear this first pair of shoes he ever bought with his own money as a reminder of where he came from and how far he has traveled as arguably the greatest guitarist in music history.
Beverly Hills People is an online lifestyle publication featuring news and features about luxury real estate, celebrities, Hollywood, health and beauty and automobiles.
disclaimer:
BeverlyHillsPeople.com is not responsible for winner's travel, accommodation or Staples Center parking costs. Winners will be drawn Tuesday, November13, 2007 and notified by phone. Prizes cannot be exchanged for other items, services or cash. Van Halen concert tickets awarded are good only for the band's November 20th performance at the Staples Center in Los Angeles, CA. Sweepstakes open to legal residents throughout the U.S. except RI, FL, and NY. No Purchase Necessary.
###