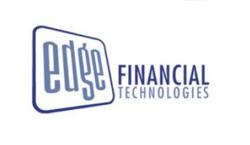 "In the real-time trading business, every nanosecond counts and the time-
savings gained from our customized solution have already resulted in greatly increased
profits for our client," Said Jitesh Thakkar, CEO of Edge Financial Technologies
Chicago, IL (PRWEB) May 06, 2011
Edge Financial Technologies, a developer of custom trading software solutions for professional traders, today announced the release of a ground-breaking custom equities trading solution. Developed for a Hedge Fund trading firm, the new software speeds order entry by combining the data feed and order routing capabilities of RealTick® and Sterling Trader®.
The software permits traders to simultaneously view their combined positions, P&L, and open orders without having to switch between monitoring RealTick® and Sterling trader® data individually. The software also handles trading in multiple accounts by intelligently routing orders to multiple destinations.
"Speeding up order entry and having a combined view of positions is a critical aspect of every trading firm. That's why we are so proud to provide a solution that adds immense value to the hedge fund client of MasterTrader," said Jitesh Thakkar, CEO of Edge Financial Technologies. "In the real-time trading business, every nanosecond counts and the time-savings gained from our customized solution have already resulted in greatly increased profits for our client," Mr. Thakkar added.
Known for providing custom software solutions to the capital markets industry, this newest solution is the latest in a long line of custom applications developed for the firm's clients. In all, the company has developed and certified over a dozen custom software solutions including a reusable platform called FastStart™ that permits developing and testing trading applications in days instead of weeks or months.
Although Edge Financial Technologies' target market includes firms of all sizes, the company has a "soft spot" for smaller companies and startups. Their expertise extends to creating automated and algorithmic trading strategies, back testing, custom risk management solutions and portfolio optimization solutions. The firm is particularly adept at projects involving market data Integration, pre- and post-trading custom risk management, custom low latency feed handlers, order routing applications, end-to-end trading system optimization as well as FIX Protocol consulting and integration.
The company is particularly noted for providing consulting on projects utilizing Realtick, Sterling, Ninjatrader, Interactive brokers, QuickFIX and other popular platforms. Edge Financial Technologies is also a certified partner with Trading Technologies (TT), CQG, and Orc Software.
Traders seeking an edge in today's rapidly changing global marketplace are invited to visit http://www.EdgeFinite.com/freesession today and sign up for a free one-hour strategy session. There is no obligation.
About Edge Financial Technologies
Edge Financial Technologies is a software consulting firm focused on implementing low latency algorithmic and automated trading systems. As a trusted partner, the company specializes in project-based work and staffing augmentation to clients including trading firms, hedge funds, banks and exchanges. Since 2006, Edge Financial Technologies has successfully delivered custom algorithmic and automated trading projects for futures, equities, options and FX traders.
###