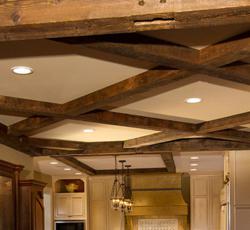 "It's the little details in home design that are vital. Little things make big things happen. We take pleasure in the subtle details built into the architectural elements to accommodate our clients wishes." ~ Butch Sprenger, owner of Destiny Homes
Edina, Minnesota (PRWEB) March 24, 2013
The Architectural Digest Home Design Show is highlighting U.S. building and architecture trades this weekend with all the latest home design trends and housing market developments. With over 300 professional exhibiting companies, displays of building materials from suppliers known for their attention to detail, and quality home products cover both a home's exterior and interior architectural design needs.
"Home designs on display incorporate modern aesthetic white appliances, new paints developed for green homes, home furnishing with leather straps and buckles for details, precious skins, fabrics reminiscent of the wild, and dual fuel ranges for kitchen remodels with quality materials. In every aspect, it is clear that attention to detail matters when designing a home, says Liz Sprenger, owner of Destiny Homes with her husband Butch.
Held in New York City, home builders and interior designers and home architects are giving and gathering that latest trends in carpets and rugs, art items, furniture, lighting fixtures, kitchen and bath hardware, home appliances, and stone and tile products. Amid seminars, cooking demonstrations that inspire kitchen updates and complimentary home design consultancy sessions, one thing is clear, the attention to detail that matters when designing a home for a client, is evident in every showcase display.
New technologies and capabilities in decorative stone pavement are being introduced for this Spring's landscape designs detailed with stone patios, walkways and landscape edging.
"Design success in found with every project by understanding the details that matter to the homeowner – from the fine details of a home's shades of color choices to larger scale items like budget and timeline," says Sprenger.
Destiny Homes finds home designers are paying greater attention to details in the following areas:

Honoring Homeowner Lifestyles - New home products and appliances with features that meet demands from homeowners for highly organized and efficient homes.
Depth Of Experience - Homeowners want designers with experience and a reputation in a wide range of home styles, but particularly in the category that suits their home's features and personality.
A Strong Team Of Architects - Home renovation projects are accomplished more efficiently when completed with architects involved throughout the entire process.
High Quality Materials - Buyers want style and value; meaning home designers are using the highest quality materials within budget parameters.
Personal Involvement - Homeowners want to be well informed and to have the ability for a say in the project from conception to finishing touches.
Start With Detailed Plans - Homeowners want to be provided with detailed plans up front, updated with any changes during the project duration, and realistic completion dates.
Bracket says, "A certain degree of obsession is part of architects' identity. Attention to detail, precision, regularity, control and focus are some of the psychological attributes commonly associated with the profession". Homeowners can appreciate it when a home renovation is completed and the builder and architect have been picky down to the last detail in executing the project. "Destiny Homes is fastidious and meticulous when it comes to making sure clients are thrilled with the final results of their custom home design, " says Butch. A home has a harmony to it when it all pulls together perfectly.
Home buyer wishes and ideals can be found in the perfect proportions of a well-designed home, from its intricate architectural elements to the interior design from top to bottom in each room. "From wood beam ceilings to the rug that lays the foundational colors in a room, the little details matter to a discerning eye," believes Liz Sprenger.
The show highlights how kitchens have expanded both in terms of size and of function. Kitchen and dining area are more open and have become part of expansive entertainment centers of a home. A recent survey by the National Association of Home Builders says that three out of four new-home buyers want their kitchen and family room to be a combined space. Home Buyer Age Impacts Home Size Preference survey results released March 20, show where a home's space counts most.
Homeowners in the Twin Cites may reach Destiny Homes by calling 952-934-5706. Honored as 2010 Remodeler Of The Year in the Metro and known for custom home designs where details matter, Butch and Liz Sprenger build and renovate luxury homes of distinction.