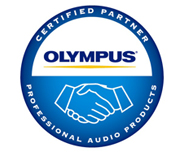 This exclusive webinar is a "one-of-a-kind" chance for resellers who have customers in industries like the healthcare, legal, insurance and public safety, verticals, are already supplying IT services to them, and have the desire to up-sell them on Olympus
Mahwah, NJ (PRWEB) March 01, 2013
eDist Business has announced it will present a free webinar on the steps needed to become an authorized dealer for Olympus Professional Dictation Systems. The webinar, "How to Become a Certified Olympus Professional Reseller," is scheduled for Wednesday, March 6, at 2:00 – 3:00pm CST.
The webinar is designed to give IT support professionals, value added resellers for digital products or software, and businesses that cater to product sales in the healthcare, legal, insurance, and public safety fields, the opportunity to grow their business in a largely underserved market. eDist Business, the webinar host, is the largest Olympus wholesale distributor of professional dictation systems that provides full solutions for independent resellers of speech recognition products. Seating is limited, and registration is recommended for those interested in taking their business to the next level through this opportunity. To register, go to https://www2.gotomeeting.com/register/190500882.
"This exclusive webinar is a "one-of-a-kind" chance for resellers who have customers in industries like the healthcare, legal, insurance, and public safety, verticals, are already supplying IT services to them, and have the desire to up-sell them on Olympus products and related professional services," shared Michael Whalen, Vice president of eDist Business.
The Olympus Professional Dictation products provide increased efficiency, stable platforms for businesses, and are designed for speech workflow optimization. The Olympus dictation product line has been a #1 market leader in dictation in the USA for decades with their DS-4000, DS-5000 and current DS-7000 they have the highest placement among professional users. Their AS-7000 transcription kit allows for seamless communication between authors and transcriptionist and the AS-7001 ODMS (Olympus Dictation Management System) allows for quick deployment and management in network environments.
Selling Olympus products means that Resellers are able to take full advantage of the increasing market demand for high-quality products and services related to the businesses as they transition from analog to digital recording. In addition, Olympus products are often a gateway to selling speech recognition solutions like Dragon Medical Practice Edition and Dragon Legal, which are rapidly being adopted by many professionals. Joining this exclusive opportunity allows for excellent profits on the original sale as well as ongoing revenue from upgrades, additional sales of new and companion products as well as training and technical support.
The educational webinar, hosted by eDist Business, will feature information on the Olympus Professional product line. Plus, participants will learn about specific industry opportunities that the Olympus dictation products will help resellers capitalize on, how their business can become certified to sell Olympus devices, and the benefit of working with the premier value-added distributor, eDist. eDist Business will also provide a product demonstration to elaborate on frequently asked questions about popular product features and how they relate to industry demand. The webinar will be followed up with additional details on how newly authorized resellers can benefit from their partnership with eDist Business through free marketing support, technical training and reselling services offered by Certified eSupport and much more.
For more information about the webinar on March 6th, Olympus dictation product sales, or on how to command business growth through North America's Premier Value Added Distributor, eDist, please visit Business.edist.com or register for the event by visiting https://www2.gotomeeting.com/register/190500882.
About eDist:
eDist Business, LLC is celebrating their 40th anniversary of serving the independent Reseller. As the Premier Value Added Distributor in the Speech Solutions Industry they offer state-of-the-art technical support, professional logistics, and cutting edge marketing to assist Reseller Partners to grow their business with the personal touch of an independent distributor. Their team of experienced, technical sales staff, selected for their excellent skills and ongoing product knowledge, take pride in serving a Reseller's every need. eDist's diverse product lines and depth of inventory offer one-stop shopping at competitive prices enhancing their Reseller's profitability and making doing business easier. For more information about eDist Business, visit their website at http://www.Business.edist.com.