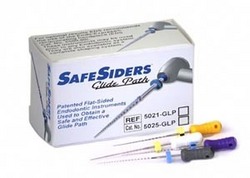 Your inventions continue to be welcome additions to my endodontic solutions. - Edward Dercagasits, DDS Mill Valley, CA
South Hackensack, NJ (PRWEB) March 16, 2010
Essential Dental Systems, Inc. (EDS) announces the introduction of the SafeSiders Glide Path Kit. Designed specifically to create a glide path for effortless endodontic instrumentation, the SafeSiders glide path instruments are fully compatible with ANY instrumentation system.
Now you can save time and money while performing root canal therapy.
SafeSiders are patented relieved flat-sided instruments designed to easily navigate even the most curved or calcified canals. The instruments in the new glide path kit can be used by hand or in the Endo-Express® reciprocating handpiece to easily establish the glide path before instrumentation. The kit allows the dentist to establish a glide path effortlessly without the fear of instrument separation.
The SafeSiders Glide Path Kit includes a total of 24 instruments (four packs of six instruments each) in sizes 08, 10, 15, and 20. The kits are available in both 21 mm and 25 mm lengths.
EDS item number - 5021-GLP: 21mm length kit.
EDS item number - 5025-GLP: 25mm length kit.
For complete product information please visit http://www.edsdental.com.
###