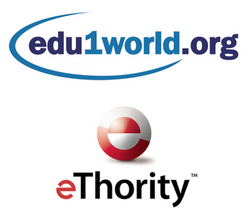 To allow organizations to publish strategic information to all users, in a secure and compliant way.
Irvington, VA (Vocus) November 4, 2009 –-
Have you ever wished you could know in an instant which technology vendors and products your peers were using? Edu1world, a Web 2.0 resource and expert network for the higher education technology community, announced today a strategic alliance with eThority, a business intelligence company serving the higher education, healthcare and human capital management industries. Through this alliance, they have developed "edu1world Data Explorer," by applying eThority's user-friendly "front end" to edu1world research data. This new application enables edu1world members from higher education institutions worldwide to access, analyze, explore and create in-depth reports from edu1world's proprietary database containing technology profile data on more than 4,600 institutions.
Edu1world Data Explorer is made possible through edu1world's implementation of the eThority Enterprise Edition. Enterprise Edition is designed to bring powerful, easy-to-use data interaction, reporting and analytics tools to higher education users of all technical skill levels. eThority's "user-obvious" interface will provide an unparalleled data discovery experience for the edu1world community, allowing them to access data relevant to their individualized business needs and take data visualization and information insight to a whole new level -- all without the need for advanced technical competency.
Every higher education employee who activates their free membership to edu1world will be able to search the edu1world Higher Education Institution Technology Profile Database to research what technology their peers in other institutions are using. Technology data profiles include demographic and financial information plus listings of the various administrative systems in use on each campus.
The database tracks information for over 80 data fields and lists more than 23,000 technology products and vendors. Key data fields include systems for Alumni Relations, Business Intelligence, Content Management, CRM, Database Platform, Degree Audit, E-Commerce, Facilities Management, Financial Management, Grants Management, Housing Management, Human Resources, Learning Management, Library Management, Mass Notification Alert, Performance Management, Portal, Procurement, Reporting (SEVIS), Room Scheduling, Student Information, and Supply Chain.
Technology Profile Data is updated daily and verified for accuracy by analysts at The Tambellini Group (TTG), which licenses the database to edu1world. TTG (which acquired Synergy3 earlier this year) has been researching education institution technology profile data since 2001 and routinely uses the results of the research for custom research projects. Through a reciprocal agreement with Datatel announced last month, TTG received a perpetual license to Datatel's complete research database, greatly expanding the market research data available to edu1world members. In addition to Technology Profile data on 4,600 institutions, Basic Profile data is available on over 7,000 additional institutions globally including for-profit and adult education programs.
Edu1world Data Explorer, powered by eThority Enterprise Edition, will enable higher education decision makers to instantly identify institutions that can contribute product references or experiences, share lessons learned and best practices, and provide peer support during implementation. The new tool will be fully integrated into edu1world.org and widely available by the end of the fourth quarter, 2009.
Edu1world General Manager Liz Dietz commented: "This is the fulfillment of what we set out to do when we embarked on the edu1world journey. Our alliance with eThority accomplishes two things: It facilitates information sharing regarding technology decisions, and it drives transparency with regards to technology purchases. Instead of relying on vendor case studies and vendor references, you can find your own peer references. Ultimately, it saves decision makers time and helps them to make informed technology choices."
The project also fulfills on eThority's mission: "To allow organizations to publish strategic information to all users, in a secure and compliant way." According to eThority Executive Chairman Lou Pugliese, "eThority is pleased to partner with edu1World in becoming the front door to a vast repository of exclusive industry information for institutions and industry vendors worldwide."
Technology vendors and consultants can also subscribe to the database for a monthly fee.
For additional information please contact Vicki Tambellini at edu1world, or Mikell Lewis at eThority.
About edu1world
Edu1world LLC is a Web 2.0 resource and expert network exclusively for higher education CIO's, professionals, faculty, associations, and vendors who develop, support and work with technology solutions. It is a community where members from around the world share lessons learned, research best practices and vendor solutions, learn about technology trends, and access the expert content they need to succeed. The edu1world mission is to deliver a state of the art web 2.0 SaaS application that builds transparency between technology vendors and educational institutions and unites the vendor community with the education industry for the benefit of all.
Edu1world is a project of The Tambellini Group, a consultancy providing trusted market insights through innovative tools, high-quality research and industry expertise that minimizes the risks associated with technology purchase decisions, improves vendor-customer relationships, and enables breakthrough results for decision makers who work in or serve the education, government and not-for-profit markets. The Tambellini Group, founded and led by Vicki Tambellini, is headquartered in Irvington, Virginia
About eThority
eThority has a 17 year history in software development, support services and data reporting. The company developed its radically new Business Intelligence platform to allow customers to synergize their existing investments in information that remains idle in their legacy information systems. eThority's solutions are in use around the globe at major research universities and leading corporations. For more information, please visit eThority.com.
###