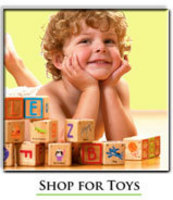 Sometimes parents select toys because of the pressure kids put on them from the toy ads they see on television, says DiMinico.
Devens, Mass. (PRWEB) December 3, 2008
The holidays are quickly approaching and shoppers are off in search of the right toy, at the right price. Learning Express, the nations leading franchisor of educational toys wants to remind shoppers to consider the pay value vs. the true play value of toys.
Classic toys inspire imagination and creativity-unlike toys that are played with once and then quickly tossed aside and forgotten.
"There are thousands of educational toy stores in this country that offer exceptional, open-ended toys for every age that big box retailers do not offer. Additionally, these stores provide a fun, safe environment with knowledgeable sales staff providing expert advice on selecting the perfect toy for any occasion", says Sharon DiMinico, Learning Express founder. "Educational toys encourage curiosity, creativity and have extraordinary play value. You won't find them at the bottom of the toy box!"
Learning Express knows that in tough economic times, parents have to cut back on their spending. They are asking parents to consider the true value of the toys they purchase. "Sometimes parents select toys because of the pressure kids put on them from the toy ads they see on television, says DiMinico. "If a child only plays with a toy for 20-30 minutes, with no benefit to the child, what was the value of the purchase?"
Learning Express' True Play Value Picks:
Games: Always a popular holiday choice, games make great gifts for the whole family.
Scavenger Hunt for Kids Game- Bring all the fun of a scavenger hunt inside with this great game that will have you running through your house in search of miscellany. Six different cards per round means that the game is never the same! Ages 6
Construction toys: Creating a sculpture or structure is a satisfying activity.
Zoob 125-Piece Building Set-The building toy with a difference; after the pieces are put together, they move! Kids will build on their endless imagination with this tub o'fun. Ages 6
Creativity: Toys that contain everything you need to express your inner artist!
Wooden Floor Easel-Every artist needs their own space, so set up your studio with this high-quality adjustable wooden easel complete with supply tray. Chalk board on one side and dry-erase white board on the others. Ages 3
Dolls: Always a perennial favorite, dolls often become a child's best friend.
Interactive Marie-Marie has a head of hair that wee ones love to brush. Soft bodied with sleeping eyes, she can say two sentences in six languages and can record and play back messages up to 1.5 minutes. Ages 3
Personalization: When kids see their names on a gift, it makes them feel extra special. Every Learning Express store is able to personalize numerous items with a nickname, favorite icon, initials or child's first name. A few examples of the gifts that can be personalized: toy car cases, clip cases, lap trays, wall letters and much, much more.
"WOW" Gifts: Kids will swoon over this!
Deluxe Kitchen-Be a kitchen magician! Exclusive retro-style wooden kitchen is the perfect spot for your little chef to create big flavors. Knobs turn, doors open and fun boils over. Ages 3
Learning Express is your neighborhood toy store; expect worry free shopping where shelves are stocked with unique products, where shoppers can get expert advise on their purchase and even have their presents wrapped free of charge! We know that play is nature's way of helping children experiment with how the world works, how to think, and how to solve problems. We understand the benefits of play are powerful and stay with a child for a lifetime which is why we continue to be committed to matching the right toy to every child's need, age and interest.
About Learning Express
Learning Express is a family of more than 130 independently owned and operated toy store owners - all operating under the name Learning Express. Learning Express stores provide an extraordinary shopping experience with knowledgeable sales staff offering expert advice on choosing the perfect toy, for every child, for any occasion. The product mix is carefully selected from manufacturers around the world and has exceptional play value. A Birthday gift registry, free gift-wrapping, free personalization, civic fundraising, and consumer VIP programs make every Learning Express store an integral part of the community. To discover more about Learning Express, to find a store near you, or to learn about franchise opportunities please visit our web site or call (888) 825-3619.
###