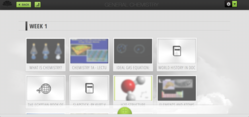 the ultimate hub for all of your course materials… take a list of links, books, and citations and turn them into a custom, online textbook.
Ann Arbor, MI (PRWEB) November 13, 2012
EDUCAUSE, the organization for educational technology, hosted the first-ever Game Changers Business Competition at their annual conference in Denver last week. Ginkgotree, a start-up aiming to be a complete textbook replacement, walked away with the Google marketing package valued at $20K.
The competition was fierce: 10 innovative finalists were each given 8 minutes to explain how they identified a problem in higher education, as well as how they applied technology to address it. With the awards, EDUCAUSE aims to promote startups who have significantly impacted information technology in higher education.
One such award went to Ginkgotree, a web app to help faculty build their own, online coursepack from any resource, complete with automated copyright clearance and digital content sourcing. As Scott Hasbrouck, CEO, announced in his presentation, "We're the ultimate hub for all of your course materials. We literally take a list of links, books, and citations and turn them into a custom, online textbook." Comparing themselves to tech giants such as Tumblr and Facebook, Ginkgotree wants to make it easy and fun (!) for faculty to create their own, custom curriculum. And students will love this - Ginkgotree coursepacks are far less expensive than textbooks, since Creative Commons content is encouraged, and professors can choose exact selections from copyrighted content, rather than using an entire book.
Even aside from the business competition, the conference was well-worth it for Ginkgotree. With their own spot in EDUCAUSE's Start-Up Alley, they received visibility among CIOs and technology directors at several colleges and universities, who were interested in using Ginkgotree to give their students access to both copyrighted and OER (free) content. In addition to the over 130 sign-ups they had prior to the conference, Ginkgotree landed more individual users as well as institution-wide leads.
Additionally, Ginkgotree saw many opportunities for partnering with other companies, including Scrible, a web page highlighting and annotating SaaS product. According to Lida Hasbrouck, COO, other partnerships are being considered as well, in order to better meet the needs of their users, most likely for Fall 2013.
In case you attended EDUCAUSE and missed them, Ginkgotree was located in one of two Start-Up Alleys. The Start-Up Alley space doubled in size from the 2011 conference - this year, 31 startups attended, 20 of which applied for the Game Changers Competition. The annual EDUCAUSE conference took place November 6-9, in Denver and online.
The contest's grand prize, a $26K EDUCAUSE marketing bundle, was snagged by another excellent startup, USEED, a Kickstarter for college students.
To see how it all works, try it out. (Sign-up is required, but only takes a minute.)