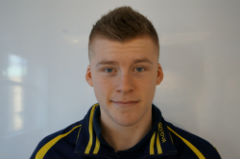 "Eric first came to the attention of the pro scouts at the Platt Lane complex, home of the Manchester City youth academy during September 2012, his first month on the EduKick program here in Manchester."
~EduKick Principal Mick Brennan
Manchester, England (PRWEB) May 10, 2013
EduKick England announces that one of their first year students has just signed a professional contract with English Championship club, Derby County Football Club. Sixteen-year-old Eric Behrens from Fuerth, Germany, finally put pen to paper on Monday 29 April.
"Eric has shown great potential all season on the Football Studies Program here in Manchester", said EduKick England Principal, Michael Brennan, proudly. Being a UEFA B qualified football coach as well as a Sport Science graduate allows Brennan to cast his eye over the skills displayed by all young international players enrolled on to this unique football and education program.
"Eric first came to the attention of the pro scouts at the Platt Lane complex, home of the Manchester City youth academy during September 2012, his first month on the EduKick program here in Manchester."
Eric clearly impressed the goalkeeping coaches at Manchester City as they very quickly invited him in to train with the club's academy goalkeepers on a regular basis.
During this time Eric received some top class coaching from the MCFC Youth Academy goalkeeping coaches alongside training daily with the EduKick England academy team. Eric also continued to be EduKick's first choice goalkeeper for all their competitive games.
Over the course of the program Eric earned himself several further opportunities to showcase his talent going on trial with Premier League club Aston Villa, before visiting Derby County F.C. Derby took to Eric straight away with head of recruitment, Craig Short, saying that he had come into the team and performed brilliantly from day one. Eric then spent several weeks travelling to Derby to join the team at weekends for matches, which in itself is a great experience for a 16 year old young player.
However, after a few weeks of discussions Eric has finally been offered a scholarship at the club and has now sealed the deal. Eric will join the club in July, after a well-deserved break for the summer. In the meantime Eric will finish his studies with EduKick England and will graduate with a BTEC Sub Diploma in Sport in June this year.
But Eric is not the only EduKick England international student player to find football success as a result of his experiences on the squad. Fifteen-year-old Canadian, Quinn Bredin, has recently been invited to trial with Preston North End as well as Birmingham City FC and English Premier League club, Stoke City.
"What really sets our football programme apart are the many highly effective links that Mick has built up with pro and semi-pro clubs throughout the UK. This enables all our young student players the opportunity to trial for many different clubs throughout the school year, whatever their level of ability," enthuses EduKick England school Director, Peter Hayes.
Furthermore, the 18 year old Ukrainian ex-EduKick England player, Nazar Kemit, has recently signed for 2nd division FC Skala.
Nazar is doing well and has been with the 2nd division team in Ukraine and is now a regular part of the first team. FC Skala are currently 5th in the division and return from their winter break next week with 10 matches left to try to get at least 3rd place which means promotion to the first division.
"I miss English football. It is different to here in the Ukraine. It is like a religion. After the EduKick England program felt stronger, more powerful and a more complete footballer."
To learn more about EduKick England and the Edukick Manchester Football & Education college, please contact EduKick direct at the contact information provided in this release.