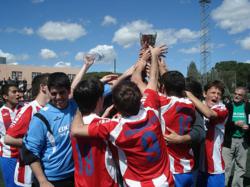 We are very proud to be included again in this important tournament along side Real Madrid and Atletico Madrid, what a great experience for our EduKick players.
~Anselmo Vicioso Aragones
Madrid, Spain (PRWEB) March 28, 2013
EduKick Madrid International Football Academy joins Spanish giants Real Madrid and Atletico Madrid in the Under-18 bracket of the prestigious annual Spanish soccer tournament in Madrid, Alcala de Henares Cup. The four day tournament begins today, March 28th and ends with the semi and final matches on Sunday the 31st.
This highly regarded Spanish youth soccer tournament is based in Alcala de Henares, (Madrid, Spain), a small city on the outskirts of Madrid which has been recently honored as a World Heritage site by UNESCO. It's home to one of the most important writers in Spanish literature's history...Miguel de Cervantes, author of the famous book, El Quixote.
The 27th annual ALCALA DE HENARES CUP is an enormous celebration for the EduKick international soccer community because it always brings everyone involved with EduKick International Football Academies (players, associates, family and friends) to beautiful Madrid, Spain to enjoy some of the famous Spanish culture, food, soccer and friends in the Spanish capital.
This year, there is a lot for the EduKick Madrid Football & Education Academy players to look forward to as players from their "sister" academy, EduKick France - Hidalgo Academy have already arrived in Madrid from Cannes, France to join forces with EduKick Madrid academy players in the under-18 bracket of this famous Madrid based youth soccer tournament.
The EduKick academy players are all very eager and highly motivated to compete against Spanish professional clubs, Real Madrid and Atletico Madrid Juveniles (under-18 squads) and other local top level Spanish and International teams. "The opportunity to play against Atletico Madrid in the group stage and possibly meet Real Madrid in the final is a dream come true for our EduKick players. Also, the exposure at this tournament is considerable, with Madrid based soccer scouts and agents always in attendance," said EduKick President, Joey Bilotta.
Defending the championship trophy (2 times champs in the last three years) in the u-18 division will be very difficult for EduKick Madrid. Atletico Madrid has been drawn into EduKick Madrid's group and they will be keen to meet their "Clasico" rivals Real Madrid in the final. In the other under-18 tournament bracket are current Alcala de Henares champions, Real Madrid and local club and tournament organizers C.D. Avance.
In addition to Real Madrid and Atletico Madrid participating in the under-18 division, Spanish professorial clubs, Villarreal and Rayo Vallecano are also participating by placing teams in younger age groups. EduKick Madrid General Coordinator (and former Mental Coach of the Spanish National Team), Anselmo Vicioso Aragones comments, "For us this tournament is a celebration of the EduKick Madrid Academy and all that is good about futbol. We are welcoming this year the boys from EduKick France and several visiting parents, so its another family football reunion for us here in Madrid. We are very proud to be included again in this important tournament along side Real Madrid and Atletico Madrid, what a great experience for our EduKick players."
For additional information on the Alcala de Henares Cup or the EduKick Madrid International football Academy, please contact EduKick headquarters direct at the contact information provided in this release.