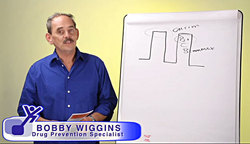 Los Angeles, CA (PRWEB) January 27, 2011
There is so much controversy over the long term and short term effects of weed that it can be hard to get at the truth. Well-financed figures on both sides display their opposing views about the drug's harm or safety. If a person, young or old, wanted the facts on weed, where would they turn?
Now Bobby Wiggins, a spokesperson and drug educator for Narconon International, explains one of the key problems related to the effects of weed consumption in a clear, three-minute YouTube video. Mr. Wiggins has educated hundreds of thousands of children on the dangers of drug use and recorded the video about the long-term effects of weed to continue the education about the effects of weed use on a broader scale.
In this video, Mr. Wiggins explains a key feature of the abuse of weed that inevitably results in a lower physical, mental and emotional state for the abuser. Without having this kind of analytical information available, it would be easy for young people to decide to start using weed. And that's just what is happening.
The Monitoring the Future annual report of drug and alcohol use by high school students reports that use of marijuana continues to rise, in contrast to the prior decade when those figures fell. In 2010, nearly half of high school seniors used an illicit drug, nearly 40 percent of them using weed. One in sixteen was using marijuana daily or almost daily. The report went on to state that a growing number of teens think that marijuana effects are not dangerous at all, even when use is long term or frequent.
"The whole argument for the medical use of marijuana or legalization to relieve the burden on law enforcement or the judicial system simply obscures the real thing that people need to know," stated Mr. Wiggins. "What are the short term effects of weed use? And the long term effects? If it creates damage, people need to focus on this fact and make sure our young people know.
"Understanding that all drug abuse has some kind of damaging effect is knowledge that could save a person's life someday," commented Mr. Wiggins. "That's the process I intend to start with this video."
Narconon is an international organization dedicated to the elimination of drug abuse and addiction through effective drug rehabilitation and drug education delivered at centers around the world.
Visit http://www.narconon.org or call 800-775-8750 for more information about marijuana use and weed effects.
###