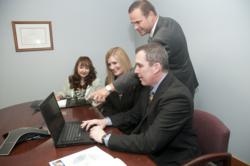 we design cost-effective benefit plans that help clients maximize their return on human capital.
Poulsbo, WA (PRWEB) June 28, 2012
Insurance trade publication "Rough Notes Magazine" featured the Employee Benefits division at EHL Insurance in the May 2012 edition. This department is the agency's fastest growing unit, up 45% from last year. EHL has a unique process where they seek to understand their client's goals, concerns and issues exploring all levels of risk. Rich Hecker, agency principal, says "we design cost-effective benefit plans that help clients maximize their return on human capital."
Increasing healthcare costs and employee engagement are dominant concerns to employers. Amy Simonis, Senior Employee Benefits Advisor recommends "a preliminary employee survey to assess employee needs and their understanding of their existing employee benefits package. Education is an important factor in designing a benefits plan. If employees don't understand their benefits, they won't appreciate them." EHL incorporates survey results in plan designs and uses them to help guide the enrollment and benefits education process.
Proactive employee education strategies help keep costs manageable. Simonis reports, "In at least one case, a client has done what many employers consider impossible, hold the premium increase to zero." Willingness to adopt strategies has been increasing. High-deductible health plans are becoming more acceptable. Many clients have begun to provide two or more health plan options, including traditional preferred provider organization (PPO) major medical plans and health savings accounts (HSAs). "HSAs encourage employees to make better economic choices and pay closer attention to health care costs, as well as provide platforms for wellness programs that may help reduce costs over time," Todd Allison, Senior Employee Benefits Advisor says. "Today, more than ever, we have to take more responsibility for our care and health care costs."
In addition to employee education and enrollment, EHL also provides a wide range of human resources consulting and employer education. EHL human resources consulting can help with compliance audits; best hiring practices; personnel forms and documentation; turnover; discipline and termination practices; employee lawsuit prevention and employee handbook development, among other services.
EHL Insurance is an independent insurance agency founded in the 1930's. Headquartered in Poulsbo, they also have locations in Sequim and Port Angeles. EHL provides risk management tools for business insurance, personal insurance, employee benefits and financial services. For additional information visit http://www.ehlinsurance.com or call 800-929-1669.
Contact: Heidi Dearinger, Business Development Coordinator, EHL Insurance
360.779.4448 x 8157