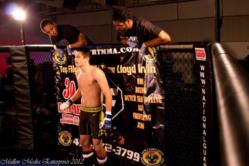 Belcamp, MD (PRWEB) November 14, 2012
This much anticipated match starts with the two extraordinarily tall welter weights measuring each other out, both showing respect for each other's striking abilities. Eilola throws a jab to measure distance, and instead of following up with the powerful kicks he known for, he then shoots in for a double leg takedown. Kelley successfully stops the takedown attempt leaving the two combatants grappling for cage control. Eilola then attempts a suplex but end up on the bottom of half guard.
Eilola attempts to sweep Kelley over from his half guard but the two end up scrambling back to their feet against the cage. Kelley then nearly finishes his double leg attempt against the cage but Eilola balance allows the Top Flight MMA representative to miraculously stay on his feet. Kelley hard fought effort at the double leg take down left his neck expose which allow Eilola to sink in a slick guillotine used by light heavy weight champion Jon Jones in his successful title defense against Lyoto Machida at UFC 140, forcing Zak Kelley to tap out 2 minutes into the first round.
This match up, on paper, was to be a striking bonanza but these two strikers opted show off their grappling and wrestling skill sets
"I'm real thankful for the win tonight, Zak is a real tough opponent who came prepare. I am proud of my striking abilities but a week ago I hurt my hand in training and Zak can bang so I didn't want to risk getting into a slug fest with him. It felt real good to get the Jon Jones guillotine, I think I am the 1st one from the team to pull it off (Eilola laughs) but that the good about learning the Lloyd Irvin mixed martial arts systems from Coach Ron, It prepares you for all scenarios in MMA fights. This is just the beginning "
Steven Eilola is from Perryville Maryland and trains at Team Lloyd Irvin's Northern Maryland headquarters, Top Flight MMA in Belcamp Maryland. He is taught and trained by Middle Weight MMA champion and Lloyd Irvin pupil, Ron "ChoirBoy" Stallings.
"I'm real pleased in Steve's performance, he showed he could handle adversity like a pro. Steve has an incredible amount of potential. I remember when he first started training with me and to see his progression to date, its simply amazing and I'm excited to see his skill level 2 years from now. This kid is amazing and is going to be sick! It's a honor for me to pass along the martial knowledge I get from Master Lloyd Irvin, Brandon Vera, Phil Davis, Mike Easton, and my other coaches and training partners to Steve and the rest of my Top Flight students. I'm excited for his victory tonight he is growing which is the important thing, and more important than that, I'm really pleased that he is a martial artist inside and outside the cage." Head coach Ron Stallings
So far Steven Eilola has to his record a 15 sec KO in his 1st MMA fight (which he did while he was still a Perryville High School Senior and can be seen on the Team's web page http://www.TopFlightMMA.com), a Rear naked choke after dominating the stand up, and now a Jon Jones guillotine.
His one loss was a close decision.
When ask about a potential title shot Eilola had this to say," I want to fight for the title, I'll fight anybody. I am going to continue to grow and improve, and eventually become a professional MMA champion."
MMA fans can look forward to seeing Steven Eilola and other Top Flight MMA competitors showcase their skills at the next Stellar Fights in the beginning of 2013 and hopefully for the welter weight title.