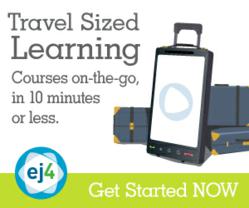 Short, quick, and extremely tactical learning is what you get with ej4.
ST. LOUIS, MO (PRWEB) March 12, 2013
ej4, LLC, eLearning developer and performance improvement leader, ended its ninth full year of business, having achieved record advancements in sales, custom eLearning development, and new partnerships.
Laser-Focus on Building Performance
ej4 CEO, Ryan Eudy, and his team, are revolutionizing the eLearning market by challenging their clients and prospects to "stop training, and start building performance". It is Eudy's goal to change the perceived notion that eLearning has to be long, boring, and expensive. "Short, quick, and extremely tactical learning is what you get with ej4," Eudy says. "We teach the learner one new thing to do versus learning an entire concept, with multiple steps, that they may never use. We then show them how to execute on that message or skill... helping employees to actually improve their performance at work."
Growth & Business Partnerships
In 2012, created over 680 custom and off-the-shelf learning courses. Clients include everyone from Fortune 100 companies to small businesses in a variety of industries including pharmaceutical, banking, and manufacturing. ej4 is particularly proud of their continued work in the agricultural industry, creating short, effective video eLearning for a number of industry giants.
In the last year, ej4 also added an extensive number of partners to their authorized reseller program, further expanding their reach in the US, Canadian, and Latin American markets. The ej4 Channel Partner division attributes this growth to the new messaging of ej4 and the needs in the market for truly mobile based, short, tactical, learning tools.
Expanded Services, Focus on Custom Content Development
2013 brings a continued focus on creating short, custom eLearning with the release of a new content development tool and platform, Thinkzoom. This newest version of ej4's LMS platform features a new Courseware Development Tool so users can easily create their own new courses and even add customization to any of ej4's 1000+ off-the-shelf offerings. This highly anticipated release affords our users a way to create, deploy, and track a customizable mobile ready learning and communication solution with just a few clicks of the mouse.
ej4 Chief Marketing Officer, Rick Michael said, "We love to solve problems. Training for the sake of training just doesn't work. You have to have a real need before you can address it, and see measurable results. That's what we do here. We solve real world performance and business communication problems."
ej4 expects to continue to innovate and make short, tactical learning the norm in an industry that still lags a bit behind.
Watch a testimonial video or visit our demo campus with a free trial.
About ej4, LLC
Simply stated, ej4 is performance improvement that works. As one of the largest elearning and performance improvement consultant services organizations in the nation, ej4's performance improvement solutions include off-the-shelf elearning, custom elearning, book summaries, webinar services, consulting, and innovative social learning platform. ej4 was chosen by eLearning! Magazine readers as their choice for "best sales training" 2012. ej4 was founded in 2003, with offices in St. Louis, MO and Overland Park, KS. Visit our eLearning blog for performance improvement tools and how-tos.