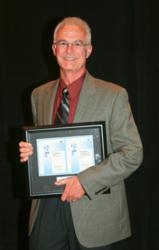 We appreciate the support ekwestrel corp provides to HI. -- Robert Asdal, Executive Director, Hydraulic Institute
Parsippany, NJ (PRWEB) March 14, 2013
Randal Ferman, Vice President, ekwestrel corp (independent engineering consulting services), was recognized by the Hydraulic Institute for his technical leadership and contributions in the creation of ANSI/HI Standards.
Mr. Ferman is a member of the committee that developed Rotodynamic Pumps for Pump Intake Design, ANSI/HI 9.8-2012. This new version represents a significant update of the standard that was originally released in 1998. Additional graphics and text have been included and the standard stipulates when the pump rated flow should be used as the design flow and identifies modes of operation that dictate when the maximum rate of flow shall be used for pump intake design. The new standard includes twice the content as the 1998 version, much more educational material, and will prove to be very useful to the industry.
Mr. Ferman also participated on the committee that developed Rotodynamic (Centrifugal and Vertical) Pumps - Guideline for Allowable Operating Region, ANSI/HI 9.6.3-2012. This standard provides guidance for determining the Allowable Operating Region (AOR) and Preferred Operating Region (POR) for rotodynamic pumps as related to the Best Efficiency Point (BEP) of each pump. Operating a pump within the POR ensures higher reliability and lower energy consumption. Committee members developed this standard in parallel with the work of the NPSH Committee, the next committee to be recognized.
The development of the Hydraulic Institute Standard for Rotodynamic Pumps Guideline for NPSH Margin, ANSI/HI 9.6.1-2012 was achieved in no small part, due to the efforts and contributions of Mr. Ferman. Net Positive Suction Head (NPSH) is an important subject that the entire pump community must understand. An NPSH margin may be required for several reasons related to pump performance and service life, to cover the uncertainties of what the NPSH available (NPSHA) will be over the range of operation, and to provide for adequate pump reliability and performance. The purpose of this guideline is to establish margins over NPSH3 that will lead to acceptable pump performance and service life.
ekwestrel corp is a Standards Partner of the Hydraulic Institute (HI), the largest association of pump producers and suppliers to the pump industry in North America and a global authority on pumps and pumping systems. Since earning Hydraulic Institute's Member of the Year award, Randal Ferman has continued working with HI, including conducting webinars and training sessions for hydraulic engineers. He publishes regular technical articles which can be found online at the ekwestrel.com website.

For more information on the Hydraulic Institute, its member companies and its Standards Partners, visit http://www.Pumps.org. For information and registration details on educational offerings visit the Pump Systems Matter website at http://www.PumpSystemsMatter.org.