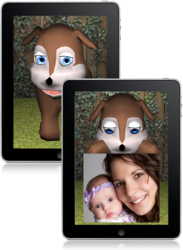 I look forward to the day when GeriJoy has grown to the point that we can offer 24/7 staffing in not just English, but also languages like Chinese, for Laolao [my grandmother] and millions like her.
Washington, DC (PRWEB) April 25, 2013
GeriJoy CEO Victor Wang received much applause in response to his rousing talk at the TEDMED 2013 conference about the crisis state of senior care in the US and GeriJoy's innovative solution: virtual senior companion care services. In his talk, Wang described the ideas that motivated him to start GeriJoy, including a recount of his own family's caregiving experience. He announced that he intends to provide a version of GeriJoy's elder companion services in Chinese, for people like his own grandmother. Other high-profile speakers at the conference included the Surgeon General of the United States, who herself spoke about the importance of promoting joy in healthcare; Dr. Francis S. Collins, Director of the National Institutes of Health; and the American health and fitness icon, Richard Simmons.
GeriJoy's virtual senior care companion serves as an avatar for GeriJoy's care staff, who provide intelligent, compassionate conversation about family photos, news, and daily activities, ensuring that seniors are never lonely by staffing the avatars using a 24/7 worldwide team. Wang announced during his talk, "I look forward to the day when GeriJoy has grown to the point that we can offer 24/7 staffing in not just English, but also languages like Chinese, for Laolao [my grandmother] and millions like her."
Immediately following this announcement, Wang is currently in China as part of an exclusive delegation of leading entrepreneurs organized by Hanhai Investment. The delegation is visiting a variety of Chinese municipalities and discussing partnership and financing opportunities with the support of venture capital, industry and government leaders in China. China has well over 100 million seniors over the age of 65. Child-bearing laws imposed by the Chinese government, in combination with changing family dynamics and culture, is causing a rapidly increasing "empty nest" problem, as seniors no longer have children to take care of them. GeriJoy can help to alleviate many aspects of this problem. Wang will also represent GeriJoy at the Beijing International Technology Transfer Congress 2013, which brings together an international gathering of hundreds of high-technology investors and partners.
About GeriJoy
GeriJoy Inc. was founded by MIT researchers Victor Wang and Shuo Deng to improve quality of life for seniors and their families through friendly technology. The GeriJoy Companion, their flagship service, is a virtual pet that is backed by GeriJoy's worldwide team of 24/7 care staff. The staff guide the pet's speech to provide elders with the experience of having an always-available conversational companion that can talk with them about family photos and other information from the Internet. Essentially, the GeriJoy Companion is a talking dog that serves as a helpful family member, not only improving mental health for elders but also providing peace of mind for caregivers. GeriJoy has been recognized by organizations like AARP and TEDMED as a leading innovator in senior care. The company is based in Cambridge, MA, and is backed by investors such as Blueprint Health and Esther Dyson. To find out more, or to order GeriJoy's service for your own family, please visit http://www.GeriJoy.com or email info (at) GeriJoy.com.
About TEDMED
TEDMED, LLC is an independent organization operated under a special license from the nonprofit TED conference. TEDMED is the world's only TED-licensed event focused solely on innovation and breakthrough thinking across all of health and medicine. TEDMED 2012 featured 71 preeminent leaders in health, medicine, science, technology, business, government, academia, media and the arts, who spoke before a sold-out audience of more than 1,600 Delegates. Jay Walker has served as the Curator of TEDMED since 2011. Walker is also the founder of Priceline.com. For more information, please visit http://www.TEDMED.com.
About Hanhai Investment
Beijing Hanhai Zhiye Investment is a multi-tech investment platform focusing on cross-cultural start-up development through capital injection and world-class consulting. Hanhai Investment has a business park, and five sci-tech incubator buildings in Beijing with over 3.2 million square feet, and 10 years of incubation experience in China. The establishment of Hanhai Investment's first U.S. building was witnessed by high officials from both the U.S. and China, including Chinese Vice President Xi Jinping, and his counterpart Joe Biden. For more information, please visit http://HanhaiInvestment.com.
About Beijing International Technology Transfer Congress 2013
Beijing International Technology Transfer Congress (ITTC) is the annual international technology exchange and partnering activity that focuses on technology transfer and international cooperation. More than 40 distinguished speakers from over 30 countries have been invited to attend ITTC 2013; meanwhile over 300 technology managers overseas and thousands of Chinese technology professionals will meet in Beijing for plenary speeches and matchmaking events. For more information, please visit http://www.BJITTC.org