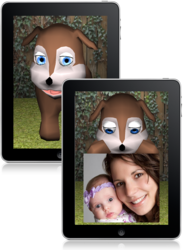 Ladies and gentlemen, you came to TEDMED to see the future of health and medicine, and it's a talking dog.
Cambridge, MA (PRWEB) June 26, 2013
GeriJoy announced today that the talk given by CEO Victor Wang at the TEDMED 2013 conference has been released online. Wang gave a inspiring presentation about the critical state of senior care in the United States, and how GeriJoy provides a solution in the form of virtual senior companion care services. In his talk, Wang recounted the ideas that motivated him to found GeriJoy, including his personal experience with his elderly grandmother, who struggled with loneliness and depression.
Wang, an alumnus of the Massachusetts Institute of Technology, also explained how the GeriJoy Companion works. It serves as an avatar, in the form of a talking dog, for GeriJoy's worldwide team of trained care staff. Through real-time audiovisual streaming over the Internet and text-to-speech technologies, the staff members provide intelligent, compassionate conversation through the avatar to ensure that its owner is never lonely. With the help of such human intelligence, the GeriJoy Companion can even provide 24/7 supervision, emergency response, and keep its owner safe, as demonstrated by a GeriJoy Companion that saved its owner from abuse by a paid caregiver.
Families can view the interaction logs between the companion and its owner on the GeriJoy Family Portal, where they can also upload family photos, captions and talking points for the GeriJoy care staff to use. That way, the GeriJoy Companion is able to provide the emotional and mental health benefits of pet therapy and constant family connection. GeriJoy customers have already noticed that the companion is helpful in reversing Alzheimer's symptoms.
Wang concluded the talk by declaring, "Ladies and gentlemen, you came to TEDMED to see the future of health and medicine, and it's a talking dog."
GeriJoy is exhibiting today at the Boomer Venture Summit in Silicon Valley, an event produced by Mary Furlong & Associates that brings together entrepreneurs, leaders in the field of aging and the venture community to create a unique forum to explore, share and design products and services that will dominate the baby boomer market in coming years.
About GeriJoy
GeriJoy Inc. was founded by MIT researchers, Victor Wang and Shuo Deng, to improve quality of life for seniors and their families through friendly technology. The GeriJoy Companion, their flagship service, is a virtual pet that is backed by GeriJoy's worldwide team of 24/7 care staff. The staff guide the pet's speech to provide elders with the experience of having an always-available conversational companion that can talk with them about family photos and other information from the Internet. Essentially, the GeriJoy Companion is a talking dog that serves as a helpful family member, not only improving mental health for elders but also providing peace of mind for caregivers. GeriJoy has been recognized by organizations like AARP and TEDMED as a leading innovator in senior care. The company is based in Cambridge, MA, and is backed by investors such as Blueprint Health and Esther Dyson. To find out more, or to order GeriJoy's service for your own family, please visit http://www.GeriJoy.com or email info(at)GeriJoy(dot)com.
About TEDMED
TEDMED, LLC is an independent organization operated under a special license from the nonprofit TED conference. TEDMED is the world's only TED-licensed event focused solely on innovation and breakthrough thinking across all of health and medicine. TEDMED 2012 featured 71 preeminent leaders in health, medicine, science, technology, business, government, academia, media and the arts, who spoke before a sold-out audience of more than 1,600 Delegates. Jay Walker has served as the Curator of TEDMED since 2011. Walker is also the founder of Priceline.com. For more information, please visit http://www.TEDMED.com.