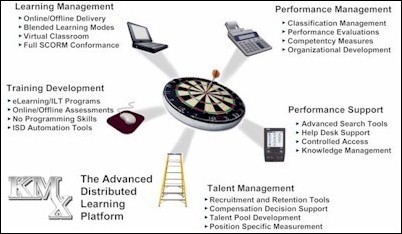 Baltimore, MD (PRWEB) June 25, 2007
Knowledge Management Solutions, Inc. (KMSI), a leader in Web-Based Training and Talent Management Solutions, today announced the release of KMx Small Business Edition. KMx Small Business Edition leverages the capabilities of KMx Enterprise, delivered as a hosted service. KMx provides fully integrated e-learning development, learning management, performance management and learning content management technologies all with no per-user fees.
KMx Small Business Edition provides a web- based portal that enables easy access both to in-house content and courses from leading content providers. Content developers can create new programs with images, video, audio, animations, surveys assessments, collaboration and documentation. KMx Small Business Edition provides for up to 500 registered users and 500MB of online content storage. Custom branding includes a custom header graphic, fonts and color scheme selection.
KMx Small Business Edition is designed to meet the career development needs of staff and support personnel. Online, offline or classroom courses can consist of any combination of self-study material and instructor-led activities. In addition to the learning management capabilities of KMx and access to a world-class library of online courses from SkillSoft, KMx Small Business provides the following features:

Complete KMx learning management and development systems to create custom content
Custom site with your organization's branding and graphics
Reporting features to track student skills acquisition and provide gap analysis
Administrative features to monitor student activity and participation
Complete assessment and survey capabilities to validate skills transfer and provide feedback
About KMx Enterprise
KMx Enterprise provides fully integrated e-learning content development, learning and learning content management, performance and talent management, and virtual classroom technologies in one easy to use solution. The KMx user interface was designed for easy customization and branding and is available with customizable language packs to provide for localization and multilingual distribution. KMx is available as a Licensed Application or as an ASP Hosted Service.
About Knowledge Management Solutions, Inc.
Knowledge Management Solutions, Inc. is a leading provider of innovative knowledge and learning management solutions for Fortune 2000 companies and Government agencies. For more information, please visit http://www.kmsi.us.
###