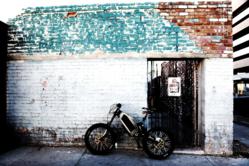 "E Bike Utah and Mad Dog Cycles both have a exceptional experience with electric bikes
Salt Lake City, UT (PRWEB) June 24, 2013
The growth and popularity of Stealth Electric Bikes continues to grow with the addition of the latest two authorized Stealth Electric Bike dealers in Utah. Mad Dog Cycles and E Bike Utah now offer The Bomber, the Fighter and the Hurricane Stealth Electric Bikes at both online and retail locations.
The Fighter by Stealth Electric Bikes has a top speed of up to 31mph, with distances of up to 37 miles on a single charge. Magura Braking system upgrades and up to 200 MM Front Forks by White Brothers Industries are available as optional upgrades. All 2013 models now include the rear DNM suspension upgrade which includes the coil for extra stability and absorption.
The Bomber and The Hurricane Stealth Electric Bikes can each reach distances of up to 50-40 Miles on one two hour charge. Distance is further extended with the Regen Button by converting braking energy into electrical energy fed back into the battery pack.
"We are excited to bring the Stealth Electric Bikes to new area markets in the Utah area," said Darin Brin, Director of Stealth Electric Bikes USA. "E Bike Utah and Mad Dog Cycles both have a exceptional experience with electric bikes and we are excited to have their recommendations for the variety of customization options available to Stealth Electric Bike customers in Utah."
For a listing of all authorized dealers in the state of Utah and other locations in the United States and across the world, please visit Stealth Electric Bikes USA at: http://StealthElectricBikesUSA.com
About Stealth Electric Bikes USA.
Stealth Electric Bikes redefine the ride experience. They are considered by peers to be the toughest and most powerful hybrid electric bikes available anywhere in the world. Electric Bike Dealers are encouraged to inquire about opportunities to become a dealer. For more information about distributing in your area, please contact Stealth Electric Bikes USA at 480-993-0327.