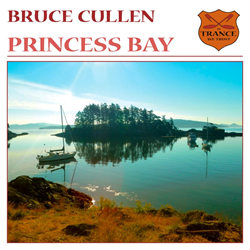 Support by: tyDi, Markus Schulz, Pedro Del Mar, (DJ Mag), Stoneface & Terminal, (Sunshine-Live Germany), M.I.K.E., Giuseppe Ottaviani, Kyau & Albert, (Dance One Radio), (Sirius XM), (Tillate Magazine), Bobina, (Fresh FM) & more!
Parker, Colorado (PRWEB) November 12, 2012
In Trance We Trust (ITWT) is a Dutch record label based in Breda, The Netherlands and owned by Arny Bink & Tijs Verwest (Tiesto). It's a sub-label of the famous Black Hole Recordings, which was established in 1997 and is best known for its club side of trance music.
Black Hole Recordings In Trance We Trust releases only a handful of tracks per year, so for Bruce Cullen and his debut track 'Princess Bay'. It just can't get off to a better start, and to top it off with the most established and respected labels in electronic dance music, Bruce taps on a door left wide open to the world!
Electronic dance music producer and DJ Bruce Cullen gains global recognition.
With support by top 100 dj's of the world, Bruce is just warming up. One quick word, "Nice!", the first reaction to Bruce Cullen's follow up to Princess Bay; this was the reaction by top A&R manager at Black Hole Recordings when Bruce delivers his next single '1492' only a month later. One can only imagine where this might all lead, one thing is for certain, Bruce has engraved a spot into the enormous globally recognized electronic dance community. Black Hole Recordings ITWT states "With a wink to the well known deeper productions featured on In Search of Sunrise and In Trance We Trust, Bruce has managed to deliver a true gem."
On New Years Eve be prepared as Black Hole has planned the release of Bruce Cullen's '1492' on a special 4 artist compilation CD. Initial feedback on this 2nd release with Black Hole Rec. has been phenomenal. Right when you think it can't get any better, it does. '1492' is expected to top 'Princess Bay'; the electronic dance communities first initial responses are simply outstanding. "You should all be best prepared for this release".
The Background and Theme of Bruce Cullen's Princess Bay & 1492.
Bruce states "My happiest moments are when relaxing in St. John, the US Virgin Islands. Princess Bay is just heavenly. The basis for all my track names and theme of the new website soon to be launched http://www.BruceCullen.Com have deep roots to all I have learned while visiting this part of the world."
Bruce has a way with names, the old discovery days of the Caribbean and his interest in pirate stories, discoveries and conquests, it mesmerized him. "Expect the unexpected" says Bruce. "1492 was a year of discovery. I want to grasp the feeling on that day... on that voyage, there's nothing like it". The central focus of world history between the late 15th Century and the 1700's was the vast expansion of Europe and the spread of European culture throughout the world. Until 1500 the world had, in whole, pressed in on Europe. Europe now expanded, thus this period is known as the Age of Discovery and Exploration.
It all really started when Bruce saw the LoveParade video of Paul van Dyk 'For an Angel'. Bruce was asked in 2010 to play before a crowd of 1.5 million at the LoveParade in Germany, it was the most exciting achievement Bruce has even known and Bruce has one hell of a belt of achievements. Being asked to join SAG/AFTRA after appearing on "Days of Our Lives" and working on the film "Outbreak" with Dustin Hoffman and Morgan Freeman, mentions in Popular Mechanics after recovering mission data for NASA's Helios mission with a another company he owns, managing 50 million visitors to the Super Bowl half time show website. And when the Mars Rover suffered a data glitch on Mars, guess who got a call from NASA. Continuing his trance music career, in 2011 Bruce was invited to iHeartRadio's broadcast on Trancid, his "Concoction" series radio show has gained global recognition with a 250 million fan-base. His achievements go on and on.
The plan ahead.
Bruce plans to work directly with Hollywood motion picture studios on scores and the music behind the scenes of what makes the movies magical, there is still the serious plan to also move forward with magical music. With a Trance All-Stars Remix in the works and already two other tracks being produced, you can all be prepared for a new name in electronic dance music's epic future.
"I can't name everyone here I want to thank, there is not enough room, so I send a big thank you to the world of dance music and everyone involved with me in any way" says Bruce.
Follow Bruce Cullen on your own Journey of Adventure.
http://Facebook.Com/BruceCullenOfficial
Twitter.Com/Bruce_Cullen
YouTube.Com/CQJB
http://www.linkedin.com/in/brucecullenofficial
https://soundcloud.com/tranceelements
BruecCullen.Com
TranceElements.Com