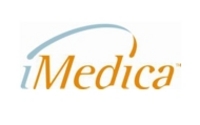 Joining forces with iMedica has allowed us to leverage the amazing technology of Inofile, that is essential for the healthcare industry
Dallas, TX (Vocus) March 24, 2009
iMedica Corporation, a leading developer of healthcare software solutions for physician practices, today announced a technology partnership with Imagetek, a national leader in enterprise content management and business process automation, to strengthen the capture of paper-based documents and ease the transition to the paperless physician practice.
Together, Imagetek and iMedica have created a solution that provides clinicians with easy and reliable access to patient records, including legacy paper documents, through the Inofile interface. Hosted within the Fujitsu fi-6010N iScanner, Inofile's convenient touch-and-go feature allows clinicians to automatically scan and store documents in the correct location within iMedica's Patient Relationship Manager™ (PRM), a single-application electronic medical record (EMR) and practice management (PM) solution that utilizes Microsoft's latest .NET technology.
"Joining forces with iMedica has allowed us to leverage the amazing technology of Inofile, that is essential for the healthcare industry," said Dane Meuler, Vice President of Business Development at Imagetek. "This integration has enabled us to make a seamless records management solution that gives users a more efficient means of completing the transition to a paperless office."
Using the advanced features of the Fujitsu fi-6010N iScanner, hospitals, physician offices and medical clinics can easily scan paper-based documents, capture the documents in digital formats and provide healthcare professionals with instant accessibility. EMR/EHR's incorporate built-in health maintenance reminders, messaging and tasking tools and a patient portal, as well as important elements such as portability, off-site back-up and interoperability.
"Partnering with Imagetek has enabled iMedica to reinforce our core value of providing effective electronic health record (EHR) and practice management solutions for our customers," said Michael Nissenbaum, President and CEO of iMedica. "The rich features Imagetek offers for providing enterprise content management combined with the capture functionality of the fi-6010N iScanner by Fujitsu provides an efficient management of important patient documents within the iMedica EMR and PRM software suite."
"This is exactly what our engineers envisioned when they created the fi-6010N iScanner," said Douglas Rudolph, Vice President of Product Management and Business Development at Fujitsu Computer Products of America, Inc. "In this fast-paced industry, healthcare documentation can be very work intensive. So it is necessary to give physicians something simple and easy to use when managing their practice. The Fujitsu iScanner and Inofile technologies have been designed to deliver on all accounts."
Learn more about this integration by visiting http://www.imedica.com/company/solution_partners.aspx.
About iMedica Corporation
Founded in 1998, iMedica Corporation is an innovator in the development of electronic health records (EHRs) and practice management (PM) solutions for physician practices. Based on its comprehensive study of physician practice workflow and extensive consultations with practicing physicians, iMedica has developed Patient Relationship Manager™ (PRM), a single-application EMR and PM solution that utilizes Microsoft's latest .NET technology. PRM's unique, template-free design adapts to a physician's workflow and sets the benchmark for ease of use and deployment, speed and portability. iMedica's replication technology enables backup, recovery and accessibility, as well as customization and solution management with minimal IT staff intervention. iMedica PRM 2008, version 8.1 is a CCHIT Certified ® product for CCHIT Ambulatory EHR 2007. For more information, call 866-960-6890 or visit http://www.iMedica.com
About Imagetek
Imagetek is a national leader in the enterprise content management and business process automation industry with a broad range of ECM software and hardware solutions, document conversion outsourcing services and web hosted content management solutions. A trusted resource for organizations as they make the paper-to-digital transition, Imagetek employs a progressive, three-fold approach: Automate. Integrate. Accelerate. (TM) This unique, trademarked method allows any organization to implement an enterprise content management system quickly and simply without considerable disruption to vital technical and financial resources. For more information, please see: http://www.imagetek-inc.com or call 1-800-422-1330
About Fujitsu Ltd.
Fujitsu Ltd. is a leading provider of IT-based business solutions for the global marketplace. With approximately 160,000 employees supporting customers in 70 countries, Fujitsu combines a worldwide corps of systems and services experts with highly reliable computing and communications products and advanced microelectronics to deliver added value to customers. Headquartered in Tokyo, Fujitsu Limited (TSE:6702) reported consolidated revenues of 5.3 trillion yen (US $53 billion) for the fiscal year ended March 31, 2008. For more information, please see: http://www.fujitsu.com
About Fujitsu Computer Products of America, Inc.
Fujitsu Computer Products of America, Inc. conducts engineering and marketing activities in Sunnyvale, CA and sales operations throughout the United States. Fujitsu Computer Products of America currently offers products and services including hard disk drives, scanners and scanner maintenance, broadcast video products, palm vein recognition technology and 10Gb Ethernet switches. Fujitsu Computer Products of America is located at 1255 East Arques Avenue, Sunnyvale, CA, 94085. For more information about Fujitsu products and services, call us at 800-626-4686 or 408-746-7000. For more information, please see: http://us.fujitsu.com/fcpa
Media Contact:
Christopher Capot
KNB Communications
212-505-2441 (o)
203-379-8019 (c)
Company Contact:
Leslie Romo
iMedica
214-466-8093
# # #