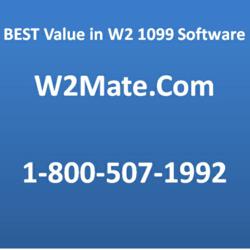 At W2Mate.com, we focus on building affordable and reliable W2 1099 processing solutions for business filers, CPAs and accountants.
Chicago, IL (PRWEB) March 12, 2013
Employers and tax professionals required to file W-2s electronically by April 1, 2013 can rely on W2 Mate 2012 to generate SSA-compliant wage reporting submissions.
Real Business Solutions (W2Mate.com) have released a new W-2 electronic filing module that takes the complexity out of reporting W2s to the government, while saving users time and money.
Through W2 Mate 2012, the W2 1099 processing program offered by Real Business Solutions, users can fill-out, print and electronically submit W-2s to the federal government and most state departments of revenue. The popular tax filing software is trusted by thousands of small businesses and tax preparers nationwide each year.
A free W2 printing and E-filing software demo can be downloaded by visiting http://www.W2Mate.com/ .
In a statement Nancy Walters, W2 Mate product manager at Real Business Solutions said, "Our W2 Mate software has some of the best W2 1099 software features in the industry. Regardless of your evaluation criteria you will quickly find out that our software ranks up there. See for yourself by downloading a free demo from W2Mate.com" .
W2 Mate is the perfect software program for business filers looking for answers to questions like how to process W2's, how to file 2012 forms W-3 and W-2 electronically, how to send form W2 copy to state of Illinois, how to prepare PDF W2 in QuickBooks, how to print W2's without accounting software and many other similar questions.
W2 Mate can e-File W2s electronically with the following states: Alabama, Arizona, Arkansas, Colorado, Connecticut, Delaware, District of Columbia, Georgia, Illinois, Kansas, Kentucky, Louisiana, Maine, Maryland, Massachusetts, Michigan, Minnesota, Mississippi, Nebraska, New York, North Carolina, Oklahoma, Oregon, Pennsylvania, South Carolina, Vermont, Virginia, West Virginia and Wisconsin.
W2 Mate Software Highlights:

Supports an unlimited number of W2 / 1099 Filers and unlimited number of employees and 1099 recipients.
SSA approved to print W2 & W3 forms on regular white paper, which eliminates the need for expensive forms.
Generates ready-to-email 2012 W-2 forms and 1099 forms. Which eliminates the need to print and email W2s and 1099s.
Prints 2012 1099 recipient copies on regular white paper.
E-files 2012 W2s and 1099s with the SSA and IRS (no limitations on the number of tax forms or submissions).
Data import from Sage Peachtree, MS Dynamics, Great Plains, Intuit QuickBooks, Sage DacEasy, Excel and CSV.
Efficient and intuitive manual W2 / 1099 data entry.
Supports 1099MISC, 1099K, 1099INT, 1099DIV, 1099R, W2, W3, 1096, 1099S, 1098T, 1098, 1099A, 1099B, 1099C, 1099PATR, 1099OID.
Automatically calculates Social Security and Medicare taxes. For paper filers 1096 and W3 are automatically generated.
Supports Windows 8, Windows 7, Windows Vista, Windows XP, Windows Server 2003, Windows 2000 or Windows 98.
Roll-over of payer and recipient information from year to year.
Password protection and data validation.
Generates printing labels, form totals and recipient lists.
Prompt, courteous and reliable U.S.-based support through phone, chat or e-mail.
Network ready with affordable pricing for multiple seats.
Exports W2s and 1099s to excel.
Data Backup and restore.
TIN matching and verification including reports for missing TINs and TIN matching errors.
On-premise software solution to be installed on individual computers / workstations.
Completes 1099 forms electronically.
Helps filers comply with state 1099 filing requirements.
Complete 1099 electronic filing software for accountants, CPAs and small business.
A free 2012 W2 1099 e filing tax software solution evaluation can be downloaded from http://www.W2Mate.com. Customers can purchase the software and receive it instantly.