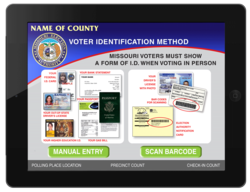 We're proving that governments don't have to be 'behind the times' when it comes to technology
St. Louis, MO (PRWEB) April 30, 2013
At this year's 7th annual Gateway to Innovation Conference in St. Louis, KNOW iNK's Electronic Poll Book, Poll Pad, was featured amongst a line of high profile technology companies.
The Poll Pad is an Electronic Poll Book designed to replace paper lists of registered voters in polling places. It allows poll workers to process voters on an iPad, instead of looking through thousands of pages of paper. The Poll Pad is based on the Apple iPad, and is the only all-in-one Electronic Poll Book solution for Election Authorities.
Scott Leiendecker, founder of KNOW iNK, was happy to be recognized at such a high profile technology innovation conference in the Midwest. "It's an honor to be recognized for our innovative solution in the election industry. Our product brings modern technology to polling places across the country and makes voting faster and easier for everyone. We're proving that governments don't have to be 'behind the times' when it comes to technology," said Leiendecker.
Leiendecker also led a presentation to conference participants on Mobile Technology in Elections. "Mobile technology is really the next wave of technology at all levels. PCs and laptops are becoming a thing of the past. Governments and businesses are starting to understand that new mobile technology, like the Apple iPad, is easier to use and manage than outdated legacy systems," said Leiendecker during the presentation.
On Saturday, KNOWiNK also competed as a semifinalist in the Arch Grants competition. A small business grant program, Arch Grants received over 700 applications and will award the top 20 businesses a $50,000 grant. KNOWiNK has been selected as a semifinalist and presented the company on Saturday to the judges of the competition. The results of the competition will be announced in May.
About KNOW iNK
KNOW iNK is an election technology company founded by former election officials. Founded in 2011, KNOW iNK is the only company in the country implementing Voter Check-In iPad technology in polling places. The Poll Pad is an electronic poll book solution designed to process voters faster and with more accuracy than using paper based lists.