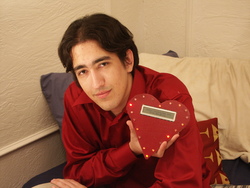 I really love my USB NerdKit. It goes great with my Physics 2 and Computer Science classes
Cambridge, MA (PRWEB) February 4, 2009
In a curious fusion of arts and crafts with high-tech wizardry, NerdKits has released a new free video tutorial to complement its electronics kit offerings. The project describes a handmade heart card, outlined with twinkling red LEDs and a programmable display; the NerdKits microcontroller setup runs both the LCD and twinkles the lights. Hobbyists can follow along with the detailed instructions and create a unique, thoughtful Valentine's Day gift, while also taking their first steps into microcontroller technology. All kits ordered through Valentine's Day will include the necessary high-brightness red LEDs so that anyone can build this project "out of the box."
The special Valentine's Day project builds on the basic USB NerdKit offered by NerdKits, but in the tradition of open source software and hardware, the tutorials can be followed by anyone on the Internet. The LED heart consists of a piece of cardboard, a 24x2 LCD screen, 20 high-intensity red LEDs, and a microcontroller. NerdKits customers can use the knowledge from the kit to build it just by adding some additional LEDs, which are included for free through 2/14.
The Valentine's Day LED Heart tutorial can be found online at: NerdKits Valentine's Day LED Heart
A NerdKit is an electronics starter kit aimed at jump-starting a new generation of electronics hobbyists by providing powerful, modern tools, as well as an intuition-based approach to understanding the underlying concepts. While it is relatively easy for anyone to try out free computer programming languages on their own, bridging the gap to sensing and controlling electronic and mechanical devices in the real world with a microcontroller can be challenging for beginners. NerdKits helps customers make this leap by providing a full array of parts, step-by-step instructions, and intuition needed to conquer those challenges, allowing hobbyists to quickly reach interesting projects, without hiding the underlying details.
NerdKits customers appreciate the education-oriented nature of the kit. "For my part, the most important and precious component of this kit is the included PDF. This gem is part instruction set, part digital electronics introduction, and part instigator. It tells you what connections to make for a number of projects, why you're making those connections, as well as leaving these tantalizing bits that send you off into a tizzy to learn more on your own," said Army Spc. Robert Easter of National Park, NJ.
The kit can also complement traditional math, science, and engineering studies. "I really love my USB NerdKit. It goes great with my Physics 2 and Computer Science classes," said Jason Ederle of Tallahassee, FL, a student at Florida State University.
Microcontrollers are tiny computers that can be found performing a variety of tasks almost everywhere in our lives. From cellphones to automobiles, most "smart" technologies are powered by a microcontroller. Their ability to be quickly reprogrammed and to work with a variety of sensors and actuators allows microcontroller enthusiasts to tackle a wide range of projects. Other free NerdKits video tutorials show how to build a USB-controlled water gun turret, a computer interface for a digital scale, and an iPhone-based remote-control car that was recently spotted driving around Boston landmarks.
The level of customization and personalization allowed by a microcontroller kit is virtually endless. "Think about it: how many ladies out there can say that their Valentine's Day card runs at 14 megahertz?" asks Humberto Evans, co-founder of NerdKits. "Despite our combined computer science and electrical engineering degrees from MIT, and our many years in electronics, we haven't come any closer to understanding women -- but we hope this project might help you get a smile out of one."
About NerdKits:
Inspired by a shared electronics hobby and the fateful microcontroller-powered repair of a broken commercial freezer, NerdKits co-founders Humberto Evans and Mike Robbins teamed up to develop a powerful microcontroller kit with top-notch documentation and educational material. Tapping in to their garage-startup do-it-yourself attitude, their first kits were built and shipped from their fraternity basement in late 2007. Immediately after graduating from MIT's Department of Electrical Engineering and Computer Science, Humberto and Mike spent summer 2008 in Jerusalem, teaching computer programming and entrepreneurship to a combined group of Israeli and Palestinian high-school students. NerdKits microcontroller kits have now shipped to 25 countries, and have found a place in the homes of both parent/child electronics neophytes and of experienced ham radio operators. Several NerdKits projects have been featured on various blogs, websites, and publications, including Slashdot, Hack A Day, Hacked Gadgets, the MAKEzine blog, Wired's Geekdad blog, and the MIT Undergraduate Research Journal. http://www.nerdkits.com/
###