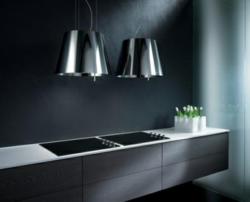 Ventless island range hoods filter and recirculate air rather than pumping it out of the house like traditional range hoods, which means no construction, and even some unique designs.
(PRWEB) August 25, 2012
HomeThangs.com – the Home Improvement Super Store has made their goal to deliver the right product to the consumer, with that in mind, shopping and home design tips, as well as special product selections are being introduced.
Kitchens are increasingly becoming the entertainment hub of the home, and entertaining has become more casual. Instead of formal dining rooms, these days people are turning to kitchen islands for a place to seat their guests. Full sized, custom kitchen islands – complete with a built in cook top – are one of the most desirable additions to a kitchen with an open floor plan. But it can be difficult to properly vent a full sized range in the middle of the kitchen, and hugely expensive to try to incorporate new ducts to keep kitchen air clean.
Ventless island range hoods offer the ultimate solution. These simple devices filter and recirculate air rather than pumping it out of the house like traditional range hoods, which means no construction, and even some unique designs.
HomeThangs.com introduced a line of contemporary Italian ductless range hoods by Elica, along with a tip sheet to educate the consumers on these unique ventilation fixtures.
1. The simple Platinum Series ventless range hood from Elica for example, is equal parts ventilation and lighting, with a two stage filtration process that includes a washable mesh filter and long-life charcoal filter, as well as two halogen lights for soft, over-all lighting. Unlike a traditional range hood, it won't wick heat away from the range top, but it will keep the air smelling fresh and walls grease-free without a complex ventilation system. Plus, it has the appearance of a sleek, modern lighting fixture, which offers the style of a kitchen island light and the function of a range hood in a single unit.
2. Average range hood are often plain and boxy. Island range hoods don't have to connect to ceiling, which leaves a lot more room for stylistic creativity. The Star Range Hood for example, is made of glass but sparkling like crystal, this is absolutely the perfect solution to needing a range hood but wanting a chandelier to provide all-over kitchen lighting. It, too, has a combination aluminum/charcoal filtration system, but has more built in lights than the Platinum series range hood, and even has an optional remote controlled dimmer function – an excellent combination of style and function.
3. Many ductless island range hoods are made with a similar bucket style design, roundish with a wider base that tapers towards the top. This is partly practical – a conical shape helps aid in air filtration by catching the hot (smoky, greasy) air as it rises up from the cooktop and filtering it down into the filters. But it's also a great stylistic choice, eliminating the boxy edges of traditional range hoods and offering something that looks more like a modern take on a bucket light. The Wave Range Hood offers a nice twist on the style, with an elegantly curved bottom and repeating "wave" patterned halogen lights in addition to three ambient incandescent lights.
4. The Grace Range Hood is actually designed to look more like a lampshade than anything, with soft incandescent lighting that illuminates it warmly from within. A far cry from Elica's other futuristic range hoods and hyper-modern stainless steel island range hoods, this is a more intimate interpretation – something with a little more library/lounge and a lot less industrial.
5. The well-designed bucket-style island range hoods by Elica are easy to double up. Because they're as much light fixtures as they are range hoods, it makes sense to have multiple similar or identical island range hoods throughout the kitchen. So installing two of the Ola Range Hoods coordinates just as easily as two matching pendant lights, or two chandeliers from the same collection. This collection comes with a variety of color options (stainless steel and blue or red, or pearly white and violet or grass green) that have a nice chromotherapy effect, and add a nice pop of color to the kitchen.
6. For bigger cooking areas, there are larger ones, too, like Evolution Plus for example. These are nice even if one doesn't have an especially wide range, simply because the larger hood provides better coverage, and is better at catching all the hot air coming up off the stove.
HomeThangs.com is not only a home improvement superstore, it also provides expert design tips and a comprehensive shopping guide, taking the ideas from professional interior designers, and offering tips to the consumers on how to pick the products to best suit their needs.