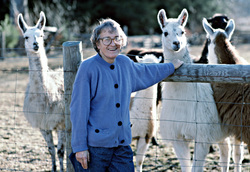 We are thrilled that this tremendous honor will bring attention to my mother's life work for many more people throughout the country
Scottsdale, AZ (PRWEB) September 12, 2007
The National Women's Hall of Fame (NWHOF), in announcing its 2007 inductees, has included Dr. Elisabeth Kübler-Ross, a crusader for the rights of the terminally ill, including hospice care, living wills, and speaking openly about life and death.
"We are thrilled that this tremendous honor will bring attention to my mother's life work for many more people throughout the country," says Dr. Kübler-Ross' son Kenneth Ross. Ross founded the EKR Foundation after his mother's death in 2004 in order to build upon her groundbreaking legacy by compassionately confronting death which empowers people to live fully, love unconditionally and die with dignity.
Dr. Elisabeth Kübler-Ross is best known as the person who revolutionized grief and bereavement attitudes toward dying patients and their families in the United States. She wrote more than 20 books about death, which were translated into more than 27 languages, and reveled in breaking through barriers to bring the concept of "dying with dignity" into mainstream medicine.
The NWHOF is a national nonprofit organization that annually recognizes the contributions to civilization of American women in a variety of disciplines. Since the founding of NWHOF in 1969, 217 women have been inducted.
For 2007, Dr. Kübler-Ross joins eight other prominent inductees, including:
Dr. Eleanor Baum, for recruitment and retention of women in engineering;
Julia Child, for contributions to culinary arts;
Swanee Hunt, for increasing inclusion of women in diplomatic peace processes;
Winona LaDuke, for public support of environmental movements;
Dr. Judith Pipher, for research in infrared astronomy;
Catherine Filene Shouse, for work in education, arts, politics and women's affairs;
Henrietta Szold, for contributions to American and Jewish history; and
Martha Coffin Wright, for anti-slavery and women's rights issues.
Five of the nine women are being inducted posthumously. The Annual Induction Reception will take place on Saturday, October 6, 2007 at the Seneca Falls Country Club. The Induction Luncheon will be held Sunday, October 7, 2007 at the New York Chiropractic College. For additional information please contact Chris Moulton at (315)568-8060 or visit http://www.greatwomen.org .
###