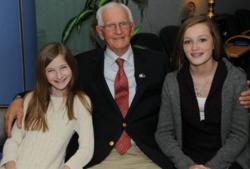 North Myrtle Beach, South Carolina (PRWEB) March 19, 2013
Elliott Realty, a leading full service Vacation Rental and Real Estate Company headquartered in North Myrtle Beach, South Carolina for over fifty years is proud to report that a reception was held at the North Myrtle Beach City Hall for their founder, Senator Dick Elliott (pictured with his granddaughters), on February 19th. The Purpose of this reception was to honor Sen. Elliott, who has been active in local and state politics for over 50 years, upon his recent retirement from the South Carolina Senate.
Since 1992, Sen. Elliott has served in the South Carolina Senate representing District 28, which includes Horry, Dillon, Marion and Marlboro Counties. Previously, he served a member of the South Carolina House of Representatives from 1982 through 1992, he was Vice Chair, Horry County Council, 1976-1980 and before that was a North Myrtle Beach Councilman from 1962 to 1966.
Sen. Elliott is credited with bringing many improvements to the area he has served but he is particularly remembered for his work improving infrastructure and roads. In fact, part of State Highway 9 is named after Senator Elliott in recognition of his efforts to widen the road and bring more tourism to the North Myrtle Beach area. Sen. Elliott was also instrumental in getting funding for the Robert Edge Parkway, which connects Main Street in North Myrtle Beach with Highway 31.
In June of 2012, Gov. Nikki Haley awarded South Carolina's highest civilian honor to retiring Sen. Dick Elliott of North Myrtle Beach – The Order of the Palmetto. She said the award was for a lifetime of exceptional dedicated service to the state.
Local officials attending the reception included North Myrtle Beach Mayor Marilyn Hatley, Myrtle Beach Mayor John Rhodes, Horry County Coroner Robert Edge and Sen. Greg Hembree, who replaced Elliott to serve South Carolina's 28th district this January.
Sen. Elliott has lived in the North Myrtle Beach area for over 60 years and plans to be still involved in helping improve the community where he works and lives whenever he is needed.
About Elliott Realty
Elliott Realty has been specializing in vacation rentals, winter rentals, golf packages and real estate sales since 1959. The company was founded on a simple premise that still rings true today "Service You Expect. People You Trust."
Myrtle Beach Vacation Rentals: Elliott Realty's newest division specializes in the professional management and marketing of vacation rentals in the Myrtle Beach area.
Elliott Beach Rentals: Trust Your Vacation To The Experts: Elliott Beach Rentals specializes in vacation rentals and professional resort rental management in the North Myrtle Beach area.
Better Homes and Gardens Real Estate Elliott Coastal Living: Our involvement in the community, knowledge of the real estate market, and care in meeting the needs of our customers and clients have enabled us to enjoy a fine reputation across the state.
Myrtle Beach Golf Authority offers the best Golf Packages in the Myrtle Beach area and can accommodate large and small golf groups.
Myrtle Beach Last Minute Vacation offers the best availability and pricing to travelers who are looking to book less than thirty days in advance of arrival.
This press release formatted and submitted by Visual Data Systems (http://www.VisualDataSystems.com), the leader in online marketing for the vacation rental industry.