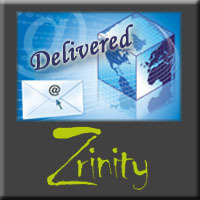 I think the community of developers might be able to do more with the product than we can at this time.
Utica, NY (PRWEB) October 5, 2008
Zrinity, a Central New York Firm providing on-premise email marketing servers & systems, announced that its award winning WYSIWYG editor, ActivEdit, will be available as open source beginning immediately.
The editor was produced in 1999 as a business-class server-side editor for ColdFusion developers to give Website developers the ability for customers to manage their own Web content easily. The product was later launched for most of the major Web programming languages such as ASP, DotNet, PHP, etc.
According to Rob Thrasher, Zrinity Marketing Director, "We have contemplated this for a while and with our focus being mostly on the email delivery industry, with ActivEdit as the HTML editor, we decided that the traffic produced might be worth more than the revenue the product generates. The flagship product is no longer driving force of Zrinity's total revenue."
Zrinity's main focus is email delivery servers and marketing systems. Although ActivEdit empowers the production of HTML in the email systems, it is not the primary focus for Zrinity. Thrasher continued, "I think the community of developers might be able to do more with the product than we can at this time."
Zrinity recently announced numerous teams of online experts at Web 2.0 firms selected Zrinity's on-premise system for their in-house needs. Jacobs Interactive, which lists Fantasy Fishing and many other Web 2.0 Websites, selected Zrinity's On-premise Email system after a lengthy due diligence. According to Scott Iverson, Vice President at Jacobs Interactive, "We sought an enterprise level email application that would help us manage all our email needs such as unsubscribes, bounces, reporting, reputation and all our email requirements and was priced very competitively. Zrinity filled every single requirement and they built us a long-term strategy that was scalable from a technology as well as a licensing perspective."
Zrinity coders continue to upgrade their email delivery server algorithm to deliver email to the inbox as often as possible. According to the Zrinity Blog the deliverability of messaging gateways can be dependent upon other gateways. Many times these gateways employ older email technology and are often configured in unusual manners. Until recently, administrators used a brute force approach to get the best delivery results and then often fine-tuned the number of connections and messages per connection to each of the major gateways. Zrinity's email delivery algorithm is continually upgraded to become smarter to continue to deliver email and avoid spam traps.
Zrinity is a leading provider of on-premise email servers and list management systems for Global 2000 businesses, email service providers and many other firms. Zrinity provides its customers with high-performance email delivery servers and systems. Zrinity, in Central New York, serves a wide variety of industries such as banking, education, government, health care, retail and B2B. Customers include The Pentagon, PGA, Boeing, Pfizer, Duke University, Penn State and more.
###