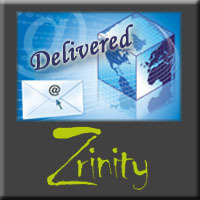 The Zrinity team built this system to be very user friendly. They built it as I would have if I had the time to build my own in-house system.
New York, NY (PRWEB) November 30, 2008
Zrinity recently announced a more flexible licensing strategy that gives online retailers the ability to save budget dollars while better communicating with existing clients. The licensing suggests a more defensive posture for online retailers whereby they spend more time and resources on existing customers which cost less to keep than gaining new customers. First and foremost online retailers should shore up pre-existing customer relationships using transactional email marketing and up-selling.
Online sales are dropping out of control and marketing costs are being evaluated during these tough times for online retailers. Recently released data shows a downward trend in online e-commerce that has been consistent since the middle of 2007 until current. The data shows a downward trend since August 2007 from an all time high of over twenty five percent to the most recent low of only one percent. More data suggests that marketers are taking this opportunity to switch away from TV, Radio and Rented Email Lists, toward Web 2.0 Social Network Marketing and emailing to existing customer lists.
Zrinity has a solution that is designed to help retailers create a dynamic one to one marketing experience that has proven to drive sales. Without the high costs of CPM's from web-based services, retailers can start saving those large budgets while advancing your online marketing capabilities. By combining email Marketing, and Dynamic Transactional marketing you will have everything you need to drive online sales and create true one-to-one communications with customers.
Hundreds of firms use Zrinity technology for their on-premise email systems. Zrinity also recently announced that Mother Nature, a Web 2.0 company, chose Zrinity as their on-premise email server provider. According to Oliver Clark, Chief Technology Officer, Mother Nature, "The Zrinity team built this system to be very user friendly. They built it as I would have if I had the time to build my own in-house system." Mother Nature, founded in 1995, is an online provider of natural health, wellness and beauty products. Mother Nature is also the largest natural health library on the Web.
Shawn Pickering, Owner and CEO, Analytic Approach, a California based firm, found Zrinity after a Google search and he stated, "Our team spent over fifteen days researching providers of email systems." AnalyticApproach.com is an email service provider that optimizes delivery of email newsletters by delivering to the inbox and ensuring email campaigns are as effective as possible. Jango, a New York City based Web 2.0 firm, chose Zrinity's on-premise email delivery system for its email communications needs. The Jango research team was put together to further explore and conduct a due diligence on the remaining competitors. Mattias Stanghed, Chief Product Officer, Jango.com, was part of the research team at Jango which consisted of the Director of Information Technology, Chief Technology Officer and CEO.
Zrinity provides hybrid hosted and managed solutions. The Zrinity Marketing Manager and Transactional Suite package include:

One time cost of the software (No CPM's), or finance it with Zrinity.
Zrinity will set up and implement your solutions
Zrinity manages 100% of your delivery needs with the support of our Partner Return Path
No need for internal IT support, Zrinity will manage all of your IT needs
Zrinity will Host and manage your appliance
24x 7 support
###