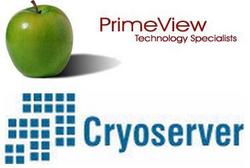 Prime View recognizes the needs of our customers to implement and manage a reliable email archiving and compliance system for their businesses
New York, NY & EAST Northport, NY (PRWEB) February 4, 2008
Growing demand for intelligent, comprehensive email archiving compliance systems that can easily be added to an organizations existing email system is driving savvy resellers and solutions providers to include the Cryoserver email compliance appliance among their email and storage products and services offerings. Prime View is among the select solutions providers to recently join the Forensic & Compliance Systems (http://www.Cryoserver.com) U.S. Channel Partner Program for the Cryoserver email archiving and compliance appliance.
"Prime View recognizes the needs of our customers to implement and manage a reliable email archiving and compliance system for their businesses," said Prime View President Victor Natanzon. "The Cryoserver email archiving appliance from FCS offers us a simple and scalable device that is ready for our customers to use immediately."
"Forensic & Compliance Systems recognizes the need for resellers and solutions providers to be able to meet the demanding compliance requirements and regulations facing their customers," said Forensic & Compliance Systems Vice President of U.S. Channel Tom Ballance. "Prime View is a welcome partner in our program to provide sales and support for our Cryoserver email archive and compliance appliance to meet its customers' requirements."
Cryoserver is a forensic email compliance solution that meets the data protection and privacy requirements of a wide range of organizations in industries including legal, finance and education, as well as government agencies. The Cryoserver email compliance archive solution is a tamper-evident, sealed appliance that is easy to implement and manage. Traditional email archiving solutions allow organizations to store data, but their lack of forensic capabilities prevents from being used in a court environment as admissible evidence. Cryoserver is the first email archiving product that successfully addresses this issue as it was built from the ground up to merge email archiving, compliance and forensic capabilities.
About FCS and Cryoserver
Forensic and Compliance Systems (FCS), is a privately-held company headquartered in Dublin, Ireland, with offices in London, Florida and New York and Colorado. The Cryoserver product line is a scalable, forensic email compliance archive that enables organizations automatically and securely to collect, store and index all email communication - via a convenient, tamper-evident appliance. This enables eDiscovery and forensic analysis of an organization's entire email history that is ready for court submission if necessary. The entire range of solutions is available from a network of channel partners. For details please visit http://www.Cryoserver.com or call 720-746-0408.
About Prime View
Founded in 1998 and located in New York City, Prime View is a complete technology partner providing services in:

IT strategy
Project management
E-discovery
Cyber Security
Database/Network administration
Software development
Technical Support
Technology placement (staff and consultants)
Prime View has the expertise to either provide organizations with comprehensive technology services, or to spearhead a single aspect of organization technology plan.
For more information, please visit http://www.PrimeViewUSA.com or call 212-695-1119.
Contact for PrimeView:
Victor Natanzon
+1 212-695-1119
http://www.PrimeViewUSA.com
Media Contact for FCS/Cryoserver:
Communication Strategy Group for FCS/Cryoserver
Arthur Germain
+1 631-239-6335
http://www.gocsg.com
###