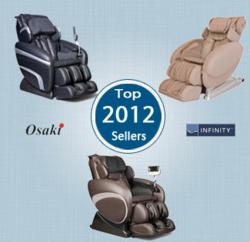 The amount of features that Osaki and Infinity massage chairs have and their affordability make them good massage chair buys for the Holiday Season.
Las Vegas, Nevada (PRWEB) September 13, 2012
Massage Chairs have become increasingly popular over the last few years and there are a lot of massage chair brands to choose from. Two Massage chair makers Osaki and a new massage chair brand - Infinity, have gained traction with their user centric massage chair designs. Steadily Osaki's Os-7200h, and Os-4000, along with Infinity's IT-8200 have received a lot of recent and continued positive feedback. Here's why Emassagechair.com thinks they could continue to be some of the best selling massage chairs heading into the 2012 holiday season.
Osaki earlier this year introduced their Osaki Os-7200h massage chair. This chair is an upgrade from their previous Os-6000. Both chairs are the same except for the heat element on the 7200h. The 7200h includes a lot of the advances that people look for in their massage chair. This includes Zero Gravity Recline, a 3D Massage Roller, Neck and Shoulder Massage, and Hip and Pelvis Massage. Since massage chairs are built around a roller and airbag system a lot of companies are putting time and effort in enhancing these techniques. Osaki spent time on developing a roller system that felt more natural and was able to give a deeper massage. It does this by traveling left and right, up and down, and in and out on its massage track. Zero Gravity recline has become commonplace in Massage Chairs and most new chairs have this technology. The Osaki Os-7200h currently retails for $3795.
Infinity has also brought many popular massage chair features to market with their IT-8200 Massage Chair. Infinity is known for blending relaxation and stretching techniques into their products. The IT-8200 incorporates Zero Gravity as well as Inversion Therapy into its massage experience and programs. Other features that set it apart are the Foot Rollers for the soles of the feet, their Swivel Seat (like Inadas' Sogno DreamWave™), the Strength of the Massage Roller, and it's abundance of massage programs (16). Even though there is limited consumer reviews there is still a lot of positive feedback on the Infinity IT-8200. Infinity has also announced a new chair that is going to be available late September 2012. It's rumored to build on the good qualities of the IT-8200 with an updated foot roller, speaker system, and massage roller. The Infinity IT-8200 currently retails for $3595.
Osaki's flagship massage chair the Os-4000 Massage Chair has continued to be a very popular massage chair choice. It was one of the first massage chairs to come with Zero Gravity recline, 48 massage airbags, a 30 inch massage roller stroke, and a competitive price that allowed for more casual massage enthusiasts to afford it. It has been compared to Osim's® uAstro™ massage chair extensively because of the overwhelming amount of similarities. The Osaki Os-4000 currently retails for $2895.
The Osaki Os-7200h, Infinity IT-8200, and Osaki Os-4000 will continue to get a lot of interest from people wanting massage chairs. It isn't completely certain that these chairs will be some of the best selling of the 2012 holiday season, but the amount of interest, the features included in each chair, their similarities to other well known and popular brands like Osim's® uAstro™ and uAstro2™ and the Inada Sogno DreamWave™, and their competitive pricing will have a lot of consumers interested in these models.
To learn more about Osaki and Infinity Massage Chairs or have general massage chair questions visit emassagechair.com or contact their customer service team by calling 888.360.9996.