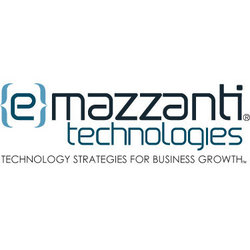 We are excited about starting our second season with the Red Bulls
Hobokken, NJ (PRWEB) December 1, 2008
Today, eMazzanti Technologies, a leader in computer networking technology, announces its renewed sponsorship of the New York Red Bulls Major League Soccer (MLS) club for the 2009 MLS season. As part of the agreement, eMazzanti will utilize New York Red Bull matches at Giants Stadium and Red Bull Arena for customer events, eMazzanti company information will be included in the GameDay Magazine alongside a prominent Red Bull player, and an on-field presentation of a signed Red Bull player jersey will be presented to eMazzanti at a customer event.
eMazzanti will host events at Red Bulls matches at Giants Stadium and Red Bull Arena that educate customers on the latest technology. Major League Soccer, offers distinct opportunities to learn about eMazzanti's services while being entertained by one of the fastest growing sports in the United States. With the addition of some of the sports greats to Major League Soccer, the overarching popularity of the "World's Game" in the United States is now growing exponentially. The combination of the growth of the sport, alongside the continued growth of eMazzanti Technologies, forms a unique synergy.
"We are excited about starting our second season with the Red Bulls", said Jennifer Mazzanti, President of eMazzanti Technologies. "This season Danny Cepero and Chris Leitch of the New York Red Bulls team came out to eMazzanti's office to sign autographs and mingle with customers. Building upon the success of our partnership with the Red Bulls this coming season we sees the Red Bulls at eMazzanti's offices for additional customer events. Beyond the events, a New York Red Bulls soccer match is an exciting and entertaining venue to gather our customers and friends," continued Mazzanti. "Few venues offer a setting like a Red Bulls match and we look forward to combining education about computer networking with the enjoyment of a Major League Soccer match and some good old-fashioned tailgating."
To learn more about eMazzanti events at New York Red Bulls games at Giants Stadium, please visit http://www.emazzanti.net/events.
ABOUT EMAZZANTI TECHNOLOGIES
eMazzanti Technologies works with businesses to provide strategies for growth through the use of intelligent technology tools. From business process analysis to network design, security planning to preventative maintenance, the firm's services all aim to reduce costs, mitigate risk and drive revenue for our clients. eMazzanti also offers an extensive portfolio of network products from the leading technology manufacturers. The best advocates for eMazzanti Technologies are our clients. The firm services businesses throughout the New York Metropolitan area and in 3 countries worldwide ranging from home office environments to multinational corporations with mission-critical needs. These organizations rely on eMazzanti as their technology management partner. As our clients grow and their needs change, our flexible, scalable model adapts to meet the aspirations of their businesses. We form long-term relationships with clients that value stability and reliability in their IT partners. An innovative and comprehensive approach to technology services has earned eMazzanti the trust of a rapidly growing client base and recognition by many of the industry's foremost publications. For more information, please visit emazzanti.net.
###