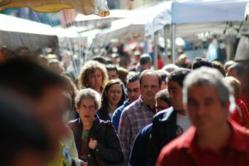 Emelia Accessories have revealed five tips for market stall traders which are essential to make the most of Christmas sales.
Leicester (PRWEB UK) 30 November 2012
As recently reported by the BBC, businesses experience a sales boost each December during the lead up to Christmas, as people purchase gifts and necessities for the Christmas holidays. Emelia Accessories have revealed five tips for market stall traders which are essential to make the most of Christmas sales.
Tip One: Provide Stocking Fillers
Money needs to be go a long way at Christmas, with consumers often required to buy presents for an extended family and social network, which can be both time consuming and expensive. Customers will be attracted to smaller items that stay in budget, such as homemade jewellery and food.
Tip Two: Attend Christmas Markets
Christmas markets occur throughout November and December, and represent places where market traders can go to offer any and all of their products to customers looking for unique and quirky Christmas gifts. Markets are popular visits not just for the products, but the atmosphere present while they shop, opening you up to a wider demographic than normal.
Tip Three: Keep Prices Low
The Cumberland News claims customers wanting to save money on Christmas shopping, will be willing to attend many markets to find the best, cheap Christmas presents. Keeping prices low is imperative to securing sales in the Christmas period. The variety and bustle of a Christmas market allows customers to easily move on when they feel prices are high.
Tip Four: Try Out New Ideas
One of the reasons people love going to markets for their products, is the new ideas for goods they are exposed to while they browse. Markets are the best places to try out new ideas for products, as the cost to begin stocking them is much smaller than with a large retail shop. Customers are incredibly receptive to new products, when they think they have a unique gift no one else could give they will be more likely to purchase them, as they will look great when unwrapped on Christmas Day.
Tip Five: Talk To Everyone, Even Without A Sale
Markets are not traditional retail, especially Christmas markets. Consumers are there to take in atmosphere as much as they are for products, and conversation is a part of that. By engaging with customers in a light and open manner even if they don't look likely to buy, a stall appears friendly and popular, attracting more custom in turn. Additionally, once engaged in conversations customers who may have simply moved on will be tempted to support your business, or return later.
As fashion and jewellery designers UK, Emelia Accessories have been providing market traders for many years. They know what works in terms of increasing sales for market traders throughout the year. At Christmas consumers are spending more money, more carefully, which is why market traders can achieve a sales boost when they follow these 5 tips at Christmas.
Emelia Accessories are a kids jewellery wholesaler providing costume jewellery to retailers and market traders. Their website has a wide range of stock which can be purchased in bulk to save money. In the run up to the Christmas period many retailers and market traders will be stocking up on new items for customers to purchase as Christmas presents.