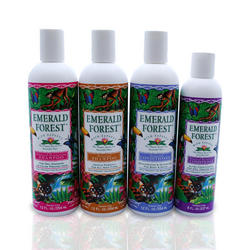 Now our products are more natural, which is important to our customers.
Encinitas, CA (PRWEB) January 11, 2011
Natural Tropix Corporation, distributor of the Emerald Forest brand of botanical hair care products with rainforest sapayul, announced today that its entire line of shampoos and conditioners are now paraben free.
Parabens are chemicals that have been widely used as preservatives for hair, body and skin care products. Recent concerns regarding a connection between parabens and increased risk of breast cancer have propelled Natural Tropix to reformulate its Emerald Forest products without the use of parabens. The company made the decision to proactively remove parabens from its products as a precaution and to meet its commitment to provide safe hair care formulas.
"We are pleased to introduce the paraben-free product lineup," said Natural Tropix principal, Molly Chadwick. "Now our products are more natural, which is important to our customers. "
Emerald Forest botanical hair care products, with Sapayul, include gentle formula shampoo and conditioner, moisturizing shampoo (for dry, damaged or color-treated hair) and ultra-revitalizing conditioner in a new 8oz sized bottle.
All Emerald Forest products contain the special rainforest ingredient Sapayul oil, known for its beautifying and moisturizing properties. Sapayul oil comes from the seeds of Sapote, a fruit indigenous to the Central American rainforests and an ancient Mayan secret for beautiful, soft, and shiny hair.
Emerald Forest products are not tested on animals and do not contain artificial colorants. All products are made in the USA.
The Emerald Forest brand was first introduced in 1992 to support rainforest preservation initiatives through the sale of quality hair care products. Today, Emerald Forest has proudly improved its hair care products and remains committed to the future of our planet by donating a portion of profits to rainforest preservation organizations.
Emerald Forest shampoos and conditioners are available at Natural and Health Food stores nationwide. To find out more information about the Emerald Forest brand and its product line of botanical shampoos and conditioners, visit the company's website at http://www.NaturalTropix.com
Natural Tropix Corporation distributes the Emerald Forest® brand of botanical hair care products, which are made with a special rainforest ingredient, Sapayul. The company donates a portion of proceeds to support rainforest preservation organizations. Emerald Forest botanical hair care products are available at natural and health food stores nationwide and through major wholesale distributors including UNFI, Nature's Best and Threshold Enterprises.
Contact:
Molly Chadwick
Natural Tropix Corporation
Phone: 760-633-0110
Email: media(at)NaturalTropix(dot)com
Web: http://www.NaturalTropix.com
###