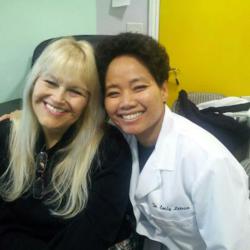 Monrovia, CA (PRWEB) March 02, 2013
Celebrity Dentist, Emily Letran, who practices in Monrovia, California, has joined a select group of the world's leading business experts from a variety of industries to co-author the book titled "Out Front: Business Building Strategies from Frontline Entrepreneurs," and was nationally featured on CBS Money Watch and the LA Daily News.
Dr. Emily, as her patients affectionately call her, was joined by some of the country's foremost business experts and thought leaders, as she co-authored, "Out Front: Business Building Strategies from Frontline Entrepreneurs." In the book, Dr. Emily and her colleagues reveal their top secret break-through action plans. Together they teach business owners and entrepreneurs how to market and sell in revolutionary new ways that will deliver equally revolutionary results. Most importantly, you'll find out how to put yourself "Out Front" - and make sure you stay there. As a dedicated patient advocate and champion for preserving the "human touch" in the healthcare profession, Dr. Emily Letran included a touching story called "Priceless Smiles." It shows how discovering a deeper purpose for your business can unite your team and create lifetime fans.
When released, Out Front reached best-seller status in five Amazon.com categories - Direct Marketing, Environmental Economics, Marketing, Entrepreneurship, and Small Business & Entrepreneurship.
Dr. Emily Letran is a general dentist who owns three multi-specialty group practices in Southern California. She received her Bachelor of Science in Biology from UC Riverside (magna cum laude, Phi Beta Kappa). She is a graduate of UCLA School of Dentistry (Dean's Apollonian Scholarship) and received her Master of Science in Oral Biology from UCLA at the same time. After graduation she participated in the General Practice Residency at Loma Linda VA Medical Center in Loma Linda, CA. and a mini-residency at Rancho Los Amigos Medical Center in Downey, CA., where she attained additional training in treating geriatric and medically compromised patients.
As a dedicated contributor to her community, Dr. Letran annually provides tens of thousands of dollars in free dental services to those in need through her Free Day of Dentistry events.
To order a copy of the book, please go to Order Out Front
For additional information on how to create and preserve "priceless smiles," please contact Dr. Letran at: http://www.cosmeticdentistmonrovia.com
About Emily Letran:
As a mother of three, Dr. Letran creatively balances work, family life, after-school life and her personal life as a growing entrepreneur. She continuously takes courses in clinical dentistry, practice management and marketing, striving to improve her skills to better serve patients. Her favorite activities include reading, writing, and "hanging out" with her three children - whether playing tennis, watching Netflix or window-shopping at the mall.
For Dr. Letran, it is an honor and privilege to be part of her patients' lives. As she watches kids growing up, grandparents getting old, the passing of spouses, the courage of the people left behind, individuals going through tough times like job loss or marital separation, she is reminded that the most important thing in life are the relationships we build with other human beings. She is proud to be a small part of these relationships - the ones she shares with patients.
Dental Offices of Dr. Emily Letran
Dr. Emily Letran
Letran (at) EmilyLetranDDS (dot) com
626.305.5722
http://www.CosmeticDentistMonrovia.com
"Dr. Emily Letran is Proud to Support The HOME Foundation"
About The H.O.M.E. Foundation:
The Helping Others Means Everything, or The HOME Foundation, is a not-for-profit organization dedicated to helping our Family of Charities. Frankie Verdugo, President of The HOME Foundation, wants to help as many worthy charities as possible as they struggle during these tough economic times. Frankie Verdugo helps raise funds through luxury dream home raffles, home giveaways, prizes, and high profile celebrity events in Hollywood... "Our mission is to help charities reach their fundraising goals and to bring awareness to their praiseworthy causes."