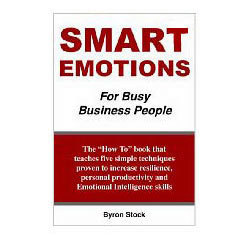 People can't always change their environment, but they can develop mastery in how they respond
St. Joseph, MI (PRWEB) July 16, 2008
The newly released book, 'Smart Emotions for Busy Business People,' by Emotional Intelligence (EI) training expert Byron Stock, helps business professionals build the resilience and agility to handle today's accelerating demands of stress and change, freeing up time to direct more energy into performing effectively. And when people operate in this zone of peak performance, they ultimately increase their personal productivity.
"People can't always change their environment, but they can develop mastery in how they respond," says Byron Stock. Applying five quick, easy techniques, grounded in 15 years of scientific research enables people to enhance their Emotional Intelligence skills, transform negative emotions and more adeptly manage the complexities of our busy work world.
For over 13 years, Stock has been teaching EI techniques, helping business professionals focus on accomplishing personal goals such as reducing stress and worry, managing emotional reactiveness, making better decisions, and more. To offer these benefits beyond a workshop format, Stock recently compiled his work into his new book, 'Smart Emotions for Busy Business People.' A former workshop participant said, "I can divide my world by the date I learned how to apply the techniques in 'Smart Emotions'…they are…literally life-changing."
Progressing through a pyramid of five EI competencies, the learner builds a solid skill foundation in emotional self-awareness before proceeding to emotional self-regulation, emotional self-motivation, empathy and nurturing relationships. Some actions that can be taken to enhance skill in the first two competencies (emotional self-awareness and emotional self-regulation) include:

Notice and name emotions -- being able to name emotions provides information that can be used in making decisions, or choosing what to say or not to say in particular situations. The learner can access an online pocket card that provides a variety of emotions clustered under six categories. The card can be used to help build an emotional vocabulary.
Identify triggers to negative emotions -- these can be people, events, or situations that frequently trigger a strong negative emotional response. By recognizing triggers, especially those that generate negative emotions, the learner will know when it might be helpful to change or regulate his or her emotions (the second EI competency: emotional self-regulation).
Identify what's important in life and the positive emotions this evokes -- these positive emotions are the emotions the learner will want to experience more frequently. Increased frequency in experiencing these kinds of emotions is related to more positive energy, and research shows that when the emotions are positive, thinking is clearer and better decisions are made.
'Smart Emotions' also includes suggestions of when and where to use the techniques as well as coaching and trouble-shooting suggestions for any challenges that may arise while applying the techniques. To increase the potential impact, Stock created a companion booklet, the 'Smart Emotions Leader's Guide' as a time and cost-effective way to develop a group's Emotional Intelligence skills. Serving as a discussion guide, it ties the 'Smart Emotions' book to real team challenges, enabling the team to learn together and reinforce the lessons in day-to-day activities.
For additional information about 'Smart Emotions for Busy Business People' or the 'Smart Emotions Leader's Guide,' visit http://www.byronstock.com. The site provides in-depth information on results achieved from Stock's programs as well as information and articles on Emotional Intelligence.
About Byron Stock & Associates LLC:
Byron Stock, president of Byron Stock & Associates LLC, is devoted to making work a place where people flourish and productivity improves. For more than a decade, Stock has specialized in the applied Emotional Intelligence skill-building, offering interactive presentations and EI skill-building workshops that achieve immediate, significant, quantifiable and sustainable results.
Contact:
Nancy Stock
269-429-1833
sara@byronstock.com
###