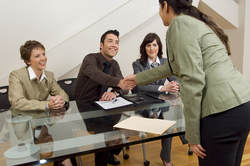 Our white label employment screening service instantly provides recruitment firms with access to a wide range of background checks, expertise and documentation that would take a considerable amount of time and money to build up
(PRWEB) July 19, 2010
UK recruitment firms can now offer their clients' a wide range of employment background checks on demand by using a new white label employment screening service from Know Your Candidate http://www.knowyourcandidate.co.uk.
The white label service enables recruitment firms to market and provide an employment screening capability to their clients whilst leveraging the know-how and experience of a specialist provider. Candidate screening reports are branded with the logo of the recruitment company and resources such as template application forms and consent declarations are also provided.
In addition, the service is totally free to set-up with background checks provided on a pay-as-you-go basis meaning that recruiters can fulfil their clients' screening requirements without any upfront investment or risk associated with setting up an in-house service.
Barry Hetherington, Managing Director of Know Your Candidate explains further, "Increasing numbers of employers across all industry sectors are requesting background checks such as Credit and Criminal Record Checks to help increase their chances of hiring the right employee."
"Small and medium sized recruitment firms therefore need to be able to offer a screening service to win business but will find that the volume, type and frequency of checks required vary greatly on a monthly basis. This makes setting up an in-house screening operation a risky proposition, potentially wasting time and money that could be better spent on other initiatives. Our white label service instantly provides recruitment firms with access to a wide range of background checks, expertise and documentation that would take a considerable amount of time and money to build up."
B2B Business Solutions http://www.b2buk.eu , a specialist recruitment company based in West Yorkshire, recently benefited from Know Your Candidate's white label service on a key project for a major client.
Andy Bahado, Director of B2B was very impressed with the service "One of our major clients approached us asking if we could provide Credit, Financial Sanctions and Criminal Record Checks as part of our service. Our initial project analysis told us that acquiring the knowledge to manage the process successfully was unrealistic given the tight timescales involved and purchasing the licences required for the Credit and Sanctions Checks uneconomical. Know Your Candidate's service enabled us to fulfil our client's requirements, react quickly and be certain the checks would be carried out efficiently. I would readily recommend the Know Your Candidate white label service to any recruitment firm looking for an employment screening service."
###