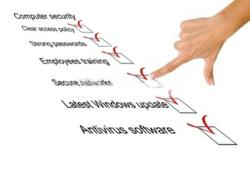 Different treatments require varying amounts of time and an EMR provides practitioners with the tools to ascertain if therapists are taking too long for a task.
Denville, NJ (PRWEB) March 14, 2013
"There are many ways clinic owners lose money through staffing problems," said Chhoda. "An EMR contains a variety of tools to identify problem areas, ensure staff is seeing as many patients as possible and eliminate time wasting behaviors."
An EMR contains numerous functionalities that practice owners can utilize to unobtrusively track and monitor the productivity of multiple staff members. One of the most useful productivity tools is secure logins to track when employees are arriving, leaving, taking breaks and how long they're spending with each patient. Built-in date and time stamps validate the information entered by staff.
Chhoda noted loss of productivity can occur if employees are unsure of how they're to accomplish their tasks. He said clinic owners should create and implement a set of office procedures that clearly states what is expected of each staff member and how they're expected to accomplish their responsibilities. It will eliminate confusion and simplify the process of identifying trouble spots.
Arriving late, leaving early, taking extra time on breaks and excessive sick time are major causes of lost time for clinic owners. An extra five minutes here and there doesn't seem like much, but it adds up to a significant amount over the course of a year. An EMR's date and time stamps maintain an accurate record of when employees arrive, depart, how much time they're spending with each patient and the amount of time off each staff member requests.
The goal of any practice is to treat as many patients as possible while maintaining a superior level of care. Different treatments require varying amounts of time and an EMR provides practitioners with the tools to ascertain if therapists are taking too long for a task. It may be that they're not aware that a more efficient means of providing services is available.
An EMR is a valuable tool for determining staffing needs and the systems provides the means to discover if a clinic is over- or understaffed. Clinicians have the data to ascertain the most auspicious time for expansion, which employees are the most productive, and information to assist them in scheduling staff for optimum client treatment.
Thousands of physical therapy practices are hemorrhaging revenues and clinic owners are often at a loss as to why. Chhoda's new information on EMRs provides clinicians with real world ways they can utilize the systems to increase staff productivity, reduce inefficiency, and regain lost funds for a more profitable practice.
Chhoda's office can be reached by phone at 201-535-4475. For more information, visit the website at http://www.emrnews.com.
ABOUT NITIN CHHODA
Nitin Chhoda PT, DPT is a licensed physical therapist, a certified strength and conditioning specialist and an entrepreneur. He is the author of "Physical Therapy Marketing For The New Economy" and "Marketing for Physical Therapy Clinics" and is a prolific speaker, writer and creator of products and systems to streamline medical billing and coding, electronic medical records, health care practice management and marketing to increase referrals. He has been featured in numerous industry magazines, major radio and broadcast media, and is the founder of Referral Ignition training systems and the annual Private Practice Summit. Chhoda speaks extensively throughout the U.S., Canada and Asia. He is also the creator of the Therapy Newsletter and Clinical Contact, both web-based services to help private practices improve communication with patients, delivery better quality of care and boost patient retention.