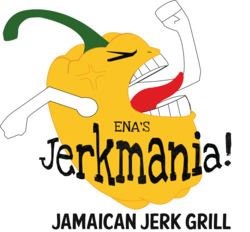 We want to see Ena's JerkMania as an alternative to say Chipolte
Springdale, Ohio (PRWEB) March 12, 2013
The fast casual concept, specializes in the Jamaican method of "Jerk", where meats are seasoned with allspice and scotch bonnet peppers and marinated for at least 24 hours, then slow grilled over Pimento wood. The concept is centered on Ms. Ena's secret Jerk sauce recipe which features original, sweet, BBQ and extra spicy flavors.
The restaurant is the first of its kind for the Ena's brand, which currently owns Ena's Caribbean Kitchen in Columbus, Ohio. Owner, and Co-founder of Ena's JerkMania, Ashford Hayles says: "By focusing on the Jerk aspect of Jamaican food, the fast casual model allows us to introduce Jamaican Jerk to the mass market by offering, fast, healthy, authentic menu items."
Using Springdale, Ohio as a test market for a Jamaican fast casual concept allowed the company to create a simple and affordable menu. Offerings include rice bowls, sandwiches, salads and wraps, customers have the option of choosing a meat and pairing them with one of four jerk sauces. The sandwiches, wraps, salads and rice bowls are all customizable.
The concept boasts its own in-house condiments such as Maniac Mayo, a creamy mayonnaise infused with garlic and allspice, Mayhem Mustard, a tangy ginger based mustard, and Kickin' Ketchup a scotch bonnet infused ketchup. The condiments were created to help compliment the taste of the Jerk sauce on JerkMania's sandwiches and wraps.
With the success of the Springdale location the company plans to open additional locations throughout the city of Cincinnati, Ohio and eventually throughout the Midwest. "We're actively seeking outside investors that share our vision and want to see Ena's JerkMania as an alternative to say Chipolte", Ashford Hayles, Ena's JerkMania, Owner.
About Ena's JerkMania
Founded in September 2011, Ena's JerkMania is the brainchild of Ms. Ena's sons Marlon and Ashford Hayles, whose vision is to make Jerk chicken a top choice among ethnic food cuisine.
For more information about Ena's JerkMania visit http://www.thatsjerk.com.