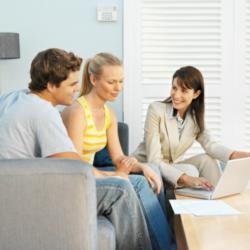 Encino, CA (PRWEB) March 02, 2013
The experts at Red Blue Realty know that real estate failures should be avoided at all costs. Selecting an Encino real estate agent well versed in the Encino real estate market is an act of trust by a buyer or a seller. Red Blue Realty's team takes this trust seriously. To be sure that a real estate professional is producing results for Encino homes for sale, it's important to know the signs that reveal this lack.
Tip # One - Setting an Asking Price
One of the problems that indicate a real estate agent is not or will not produce results in the current market place is setting an asking price on a property that is too high. A high asking price limits the number of qualified buyers and agents looking at a property. Then the marketplace for buyers self-selects downward, and the result is be a home that remains on the market for a long time - unsold. To prevent this, a skilled Encino real estate agent like a member of Red Blue Realty's team will recommend choosing an asking price slightly lower than market value. This method often increases interested buyers, and can create a multiple offer situation that may exceed the seller's original wished-for asking price. If a real estate agent does not price a home well, this is a sign that the agent will not produce listing results.
Tip # Two - Comparable Sales
The second obvious way to determine if a realtor is not performing well in the Encino real estate market is if the agent relies on out of date information about property values and the neighborhood's comparable sales. Figures from as recently as just the preceding month, not to mention the preceding year, can be out of date. Once out of date, these figures are not at all valuable to use when comparing prices. It's vitally important to compare prices on recent, up-to-date sales in the same or similar neighborhood. It's also vital to compare properties that have similar characteristics. A home with a yard is different than one without a yard; a home with an attached garage is different than a home with no garage for example. With the real estate market changing on a daily basis, only the most recent sales can be vetted for pricing information.
Tip # Three - Document Savvy
An agent can't produce results if they can't understand the language. Sellers receive many documents, which means that realtors also receive many documents. And most of the documents require some explanation. This means a real estate agent must be well versed in both the language and his or her understanding of real estate terms. A successful real estate team like Red Blue Realty can always explain any aspect of a contract. If a realtor can't do so, then it is doubtful that he or she can produce sales results either.
Website: http://www.redbluerealty.com
Email: Contact(at)redbluerealty(dot)com
Phone Number: 1-(855) 66-RBREALTY or 1-(855) 667-2732