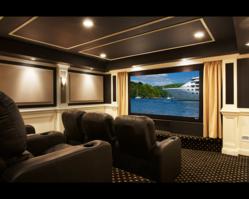 "We have an talented team of professionals always ready to serve our clients"
Chantilly, Virginia (PRWEB) November 06, 2012
Encore Custom Audio Video is proud to announce that they are the recipients of the Level I Gold Technical Design Award for a home theater, as part of CEDIA's prestigious 2012 Electronic Lifestyles Awards competition. CEDIA, the Custom Electronic Design and Installation Association, is one of the premiere professional organizations for residential and commercial electronics consulting.
Encore won this award by going above and beyond in meeting the needs of a client who wished for a state-of-the-art home theater system. The design goals of this client included:
■Comfortable seating beyond that of most theaters.
■Standing room in the back.
■Full automation of the theater's electronics and components.
■The ability to play video games as well as movies.
■A candy case and popcorn machine.
The Implementation
Encore rose to this challenge beautifully, creating a design that surpassed even the original plans. The final design integrated six lighting zones, which could all be controlled through a single Creston remote control. 2-inch sound dampening panels acoustically optimized the sound for every seat in the custom home theater. Additionally, the speaker components were all carefully concealed behind hand carved wooden columns, creating an elegant theater design.
The Challenges Faced
Technical challenges rose frequently during the course of implementation. When it was discovered the original architect's plans left too little room for a standing area in the back, Encore quickly adapted the designs, carving out counter space to make room for the standing area.
Furthermore, when the client added the request for popcorn and candy machines, space that had been intended for a closet, the space was repurposed to hold the snack machines. The electronics were then cunningly hidden behind a custom flush mounted equipment rack that was designed to fit perfectly in the back of the room. The rack placement optimized space while still emphasizing the need for a seamless, distraction-free design.
The Prize
In recognition of these achievements, CEDIA awarded Encore Custom Audio Video with one of the highest awards in the industry. The Level 1 Gold award is specifically aimed at home theater designs with a retail value of $100,000 or less, demonstrating that Encore can deliver a truly excellent home theater within the budgeted scope set by the homeowner. By carefully selecting between vendors and sources, they were able to maximize their client's budget while still delivering a world-class home theater.
Encore Custom Audio Video won the same Level 1 Gold award in 2011. Winning the award in 2011 and now 2012, Encore Custom Audio Video has proven again and again that their design and installation team goes above and beyond to deliver the best in private home theaters for their clients.
North Virginia Encore Showroom
If you are located in the Northern Virginia area and would like to experience a state-of-the-art home theater, schedule an appointment to visit Encore Custom Audio Video's brand new showroom. During your visit you will also be able to tour eight different zones of automated lighting, five zones of distributed audio, two zones of distributed video, a countless number of different control devices, and of course a fully functional home theater. Having a place to visit and demo all the newest home technology possibilities in person can assist homeowners in making the best decisions on what solutions are right for them and their families.
About Encore Custom Audio Video
Encore Custom Audio Video is a Virginia-based home theater and automation contractor that specializes in providing the best in home electronics solutions at a fair price. Thanks to years of experience and a dedication to exceeding their client's expectations, they have quickly made a name for themselves as one of premiere electronics contractors in the United States.