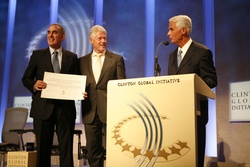 JUNO BEACH, Fla. (PRWEB) September 27, 2007
According to Department of Energy figures, FPL was No. 1 in energy efficiency among U.S. utilities and No. 4 in managing its electricity demand. Here are some highlights of FPL's energy management programs, which include both energy conservation and efficiency.
-- FPL's energy management programs have substantially reduced power usage while meeting customers' energy needs, thus eliminating the need to build 11 power plants and cutting down on carbon dioxide emissions that would have been produced by these fossil fuel facilities.
-- The company has been able to achieve these results in the face of rapid growth in its customer base and burgeoning electricity demand.
-- Demand Side Management, or controlling part of customers' energy use during peak demand hours, has been a critical tool. One type of Demand Side Management, a popular voluntary plan named On Call, temporarily shuts off air conditioners, water heaters and other appliances that use large amounts of electricity during periods of highest demand. Over 740,000 FPL customers participate in On Call.
-- FPL has carried out more than 2.3 million home and business energy surveys designed to make electricity use more efficient. Customers can take a survey by phone, online, or request an on-site evaluation by an FPL team.
-- The company provides rebates to residential and business customers who install energy-efficient appliances, install insulation on windows and doors and take other steps to make their homes and businesses more energy efficient. It also encourages customers to change their energy consumption habits, such as keeping thermostats at a fixed level all day.
For more information, see the FPL Group profile or go to http://www.fpl.com.
Florida Power & Light Company is the principal subsidiary of FPL Group, Inc. (NYSE:FPL), nationally known as a high quality, efficient and customer-driven organization focused on energy-related products and services. With annual revenues of nearly $16 billion and a growing presence in 26 states, FPL Group is widely recognized as one of the country's premier power companies. Florida Power & Light Company serves 4.5 million customer accounts in Florida. FPL Energy, LLC, FPL Group's competitive energy subsidiary, is a leader in producing electricity from clean and renewable fuels. Additional information is available on the Internet at http://www.FPL.com, http://www.FPLGroup.com and http://www.FPLEnergy.com.
Note to Editors: High-resolution logos and executive head shots are available for download at http://www.fpl.com/news/logos.shtml.