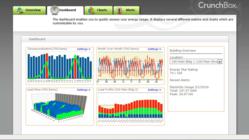 The CrunchBox is a market differentiator for energy management firms. The partnership program is intended to help our partners incorporate a scalable, web-based technology into their solution sets, ultimately bringing their clients added value
Boonton, NJ (PRWEB) May 31, 2011
With the official launch of the CrunchBox partnership program, CrunchEnergy is seeking out qualified energy vendors to expand their solution set with an innovative energy monitoring technology platform (the CrunchBox). CrunchEnergy is a innovative company dedicated to developing breakthrough technologies to help the world use less energy. This program was developed to easily enable partners to capitalize on the benefits of the CrunchBox system for their corporate customers. The CrunchBox brings real-time energy usage data to the fingertips of end-users enabling them to better manage their day-to-day energy usage and, in the long-term, develop better overall energy reduction strategies.
"The CrunchBox is a market differentiator for energy management firms. The partnership program is intended to help our partners incorporate a scalable, web-based technology platform into their solution sets, ultimately bringing their clients added value," said Robert Bailey, Director of Business Development for CrunchEnergy. Ideal partners are companies who are interested in becoming a distributor for the CrunchBox technology platform as well as receive the benefits of offering their clients affordable, real-time energy monitoring. Potential partner companies include:
1. Engineering firms using the CrunchBox to provide data for energy analytics and benchmarks for state pay-for-performance programs.
2. Energy efficiency vendors using the CrunchBox to help clients control energy costs.
3. Solar Installers using the CrunchBox to measure solar array production and panel performance.
4. HVAC and other service providers adding the CrunchBox™ to their suite of energy management products.
About CrunchEnergy
CrunchEnergy is dedicated to developing innovative new technologies that help the world use less energy. The company is a spin-off of Metem Corporation, a leader for 50 years in the design and production of gas turbine machining processes for OEMs and in the development of next generation technologies and processes to increase energy efficiencies. CrunchEnergy is led by a seasoned team of proven entrepreneurs and business professionals who have a history of building successful technology companies that have received tremendous accolades such as one of Deloitte's Technology Fast 50, one of New Jersey's Finest Companies, one of America's Best Places to Work, and the #1 Best Place to Work in New Jersey.
# # #