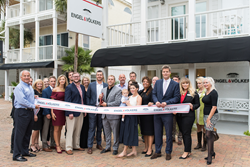 The Engel & Völkers brand truly offers an unparalleled reach and service not seen in our market
SANTA ROSA BEACH, Fla. (PRWEB) November 05, 2018
Engel & Völkers is pleased to report its success in the Florida Panhandle. Engel & Völkers 30A Beaches, the brand's second brokerage in the Northwest Florida market, was established in early 2018 by License Partner Beau Blankenship. The 28-year-old, former NFL player has since recruited 25 local top producers bringing in over $118M in sales volume and currently holds $90M in listing inventory. This success was celebrated at the recent grand opening and ribbon cutting ceremony hosted by Engel & Völkers 30A Beaches at their Santa Rosa Beach location.
"Since bringing Engel & Völkers to 30A, we have seen great amount of success that solidifies our decision to join Engel & Völkers," said Blankenship. "The Engel & Völkers brand truly offers an unparalleled reach and service not seen in our market. We took advantage of a great opportunity to leverage the global exposure of the brand in our market and surrounding areas. In a short time, we have begun to see the success of aligning with this brand and we are extremely excited to see what the future holds."
Over 50 guests, including local elected officials, company executives, clients, friends and
family celebrated the brokerage's official grand opening and ribbon cutting at on November 1, 2018 at Engel & Völkers 30A Beaches located at 3557 E County Hwy 30A.
When Blankenship concluded his collegiate and professional football career, he found success in the real estate industry. Over the last four years, Blankenship has increased his personal sales volume from $15M to $70M and is regarded as one of the top agents in Florida's Emerald Coast. Blankenship previously owned a successful property management company which he later sold to focus on Engel & Völkers 30A Beaches.
According to Zillow, the median home value in Walton County is $357,400. Whereas Blankenship and his team have an impressive average sales price of $1.3M. Walton County home values have gone up 9.4% over the past year and Zillow predicts they will rise 3.2% within the next year.
Blankenship brought on Brian Beasley, whom he worked with at Engel & Völkers Destin, to be the Managing Broker of Engel & Völkers 30A Beaches. The team has plans for growth, both in terms of agent count and expanding to nearby markets in the Florida Panhandle.
"We're looking to bring on savvy, sophisticated and hardworking professionals," said Blankenship.
Engel & Völkers Florida, the brands master license partner, donated $2,000 to it's two shops in the Florida Panhandle for relief after Hurricane Michael. Blankenship was presented with a check after the event. Funds were raised through a GoFundMe set up by the company where funds were donated by various members of the network.
"Although Hurricane Michael recently devastated some of the surrounding areas, they have received tremendous support and are on the road to recovery," said Blankenship. "Our area was extremely fortunate and we are very thankful to have sustained no serious damage. From a real estate prospective, I believe the impact will be minimal to our market. The market seems to be on the same trajectory it was on prior to the storm and we are seeing some very active sellers and buyers."
The Engel & Völkers Florida network is currently comprised of 24 brokerages throughout the state, with several more set to open in the coming months. Nearest to Engel & Völkers 30A Beaches is Engel & Völkers Destin.
"We are strategically exploring opportunities in the Florida Panhandle," said Timo Khammash, Managing Partner of Engel & Völkers Florida. "With 18 unique counties in the area and strong franchisees like Beau, we see a lot of potential for growth."
###
Press contact:
Linzee Werkmeister, Director, Public Relations & Franchise Support
Email: Linzee.Werkmeister(at)evusa(dot)com
Tel: (239) 348-9000
About Engel & Völkers: Engel & Völkers is one of the world's leading service companies specialised in the brokerage of premium residential property, commercial real estate, yachts and aircrafts. Based in over 800 locations in total, Engel & Völkers offers both private and institutional clients a professionally tailored range of services. Consultancy, sales and leasing form the core competences of the staff of more than 10,000 people operating under the Engel & Völkers brand. The company is currently operating in over 30 countries on four continents. Intensive training schemes in its in-house real estate Academy and the high level of quality assurance governing its systematically structured service provision are key factors that account for the company's success. For more information about Engel & Völkers, please visit engelvoelkers.com
About Engel & Völkers Florida: Engel & Völkers Florida is the Master Franchise Partner of the global luxury brand Engel & Völkers. The company represents franchise locations around Florida, including: 30A Beaches, Belleair, Boca Raton, Bonita Springs-Estero, Cape Coral, Clermont, Delray Beach, Destin, Fort Lauderdale, Jacksonville Beach, Jupiter, Madeira Beach, Marco Island, Melbourne, Melbourne Central, Miami-Coral Gables, Olde Naples, Orlando-Winter Park, Palm Beach, South Tampa, Stuart, Wellington, and Windermere.
Recognized for uniquely recruiting, training and equipping some of the top professionals in the real estate industry, Engel & Völkers Florida's exclusive franchise model positions its license partners at the top of the premium market to gain market share and support their bottom line.
Engel & Völkers Florida is continuing to strategically strengthen and expand its presence in premium real estate markets across the state of Florida. If you would like to know more about the Engel & Völkers brand or how to join its global network, which is known for demonstrating competence, exclusivity and passion, feel free to call our corporate office, located at 633 Tamiami Trl N, Suite 201, Naples, FL 34102 USA. Tel: +1 239-348-9000. For more information about Engel & Völkers Florida, please visit florida.evusa.com