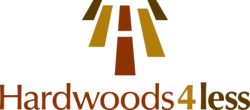 ...is a great option for homeowners looking to update the basement of their homes"
Greensboro, NC (PRWEB) December 31, 2012
Hardwoods4less introduces its new line of engineered hardwood flooring, perfect for homeowners looking to install or replace hardwood flooring in lower levels of their homes, especially basements and on concrete.
"Engineered hardwood flooring is a great option for homeowners looking to update the basement level of their homes with hardwood flooring," says Clayton Peebles, owner of Hardwoods4less. "This flooring type holds up best in areas like basements where there are great changes in temperature and climate."
Engineered hardwood flooring is structured to be able to withstand the fluctuating levels of moisture found in the bottom levels of most homes. It adjusts to the changes.
Solid hardwood flooring, however, shrinks and expands as the moisture levels increase and decrease. This can cause structural damage, including cupping and gapping. Engineered hardwood flooring then is a better option for ground floors, and for areas that experience such climates changes.
The engineered hardwood flooring products are made from solid hardwoods in a variety of species. Several layers of solid hardwoods are packed together in a mesh-like pattern with a solid piece of durable hardwood placed on the top.
Engineered hardwood flooring is easy to install. It can be nailed, stapled or glued down. It can also be installed using the floating method. With this method, hardwoods are snapped together and laid over any existing surface.
All come as an average length, 5-inch wide plank flooring. Each comes with a 25-year finish warranty and a lifetime structural warranty, both for residential use.
Peebles says the engineered hardwood floors are not only easy to install; they're affordable, too.
"The entry level price point starts $2.34 per square foot."
Engineered hardwood flooring is real hardwood that's suitable for all levels of the home, including basement man caves and play rooms.
For homeowners and businesses interested in more information about engineered hardwood flooring, visit http://www.hardwoods4less.com.
Contact:
Business Information
Hardwoods 4 less, LLC
1921 Strathmore Drive
Suite A
Greensboro, NC 27410
Phone: 888-705-7555
Fax: 336-273-1598
Website: hardwoods4less.com
Email address: Sales(at)hardwoods4less(dot)com
Affiliations:
Better Business Bureau
National Hardwood Flooring Association