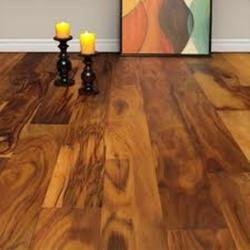 Watch Royal Wood Floors- Engineered Hardwood Flooring Installation- On The DIY Network
Milwaukee, WI (PRWEB) March 05, 2013
The popular cable television series followed Maurice and Kirsten through their journey of replacing worn, dated and stained flooring in their bonus room.
The renovation presented many challenges, but the most difficult was finding a flooring choice that wasn't too expensive and could handle heavy traffic for many years to come. The couple eventually found with the help of their professional contractors an engineered hardwood floor installation just perfect for their needs and the space's decor.
"Our new customers are pleasantly surprised by our products and services because they've often gone to a specialty retailer or a big box home improvement store. Our cost effective options really apply to the homeowners needs. Our competitive pricing along with our superior craftsmanship gives customers a real bang for their buck."
The show demonstrated to homeowners Kirsten and Maurice, as well as thousands upon thousands of viewers that engineered hardwood floor installation is a great way to transform practically any room from ordinary to extraordinary. The episode solves the puzzle not only for new property owners Maurice and Kirsten, but for all the viewers tuning in on how to expertly tackle practically any engineered hardwood floor installation.
With its beauty, ease of planning and installation, these engineered hardwood floors take a lot of the guesswork out of the equation. The company points out that what their customers are left with is an exceptional space with great flooring that's built to last for more than one lifetime.
The company also gives its customers real world tips for how to clean floors on its website. The companies blog offers information concerning maintenance of your new hardwood floors. The engineered hardwood floor installation episode aired, on 3/1/2013 at 10pm Central. For the next airing of Episode DMIM-109H, entitled, "Urban Life-Style Bonus Room" featured on Made in Milwaukee as featured on DIY Network; check your local cable listings for information.
For more information about these elegant, yet durable engineered hardwood floor products and installation service protocols, please call: Royal Wood Floors at (414) 378-2066, or visit us at our website: http://www.royalwoodfloor.com.